Volume 2
Selected articles from the Wharfedale Newsletter, 1999-2002
Journal of the Wharfedale Family History Group
Edited by Wyn Chalker
First published 2005
Published by :
Wharfedale Family History Group
206 Moseley Wood Gardens
Cookridge
Leeds, LS16 7JE
ISBN 0 9536570 4 3
A WHARFEDALE MISCELLANY
Selected articles from the Wharfedale Newsletter, 1999 – 2002
Journal of the Wharfedale Family History Group
CONTENTS – Main articles
A Brief History of the Society of Friends, Rawdon
Will you marry me? – Steve Race, O.B.E.
A Walk through Burley – Frank Newbould
Windyridge/Hawksworth
Lord Thanet's Benefaction to the Poor of Craven – Roy Stockdill
How Families have Changed – Wyn Chalker
Families on the Move – Stanley Merridew
Copyhold – Audrey Daykin
Baildon Moorside – J. Peter Davey
The 1910 Finance Act – Audrey Daykin
A Burnsall Miscellany – Stanley Merridew
Families on the Move II – Stanley Merridew
Marriage Allegations and Bonds – Audrey Daykin
Langstrothdale Families Round the World – Rev. H. Isherwood
Craven Men at Flodden Field – Wyn Chalker
Yeadon Cricket Club – Fred Cooper
A Short History of Ben Rhydding Methodist Church – Jean Alderman
Upper Wharfedale Methodist Records – Stanley Merridew
James Irving, a Gamekeeper who died young – Kathleen Stevenson
Silvester Petyt and his Charity – Tony Petyt
A Brief History of Yeadon Manor House – Ian Hutton
Craven Muster Rolls
The Whitakers of Greenhow Hill and Grimwith – Hazel Hill
Eccup – the Demise of a Township – Stanley Merridew
William Usher, a 19th Century Country Doctor – Anthony Petyt
Timble Census in 1767 – David Teal
Grimwith Reservoir – Myra Simmonds
The Leech Family – Anthony Petyt
The Leech and Birch Families – Monica Taylor
A Close Look at Esholt – Stanley Merridew
What is a Chronology – Hazel Hill
Bolton Abbey Registers – Tony Petyt
The Wedding Photograph – Mary E. Marrs
Multiple Baptisms – Brian Clayton
My Inconsiderate Ancestor – David Foster
Researching in Cracoe, Hetton and Rylstone – Stanley Merridew
FIAT LUX!
(Let there be Light!)
The following poem, transcribed by Brian Blowers, tells the story of the arrival of electric power in Kettlewell.
"Uncle" Percy Inman was tall and dark and thin,
He wore an ancient, shiny suit he had been married in,
His general store, the Post Office, had prospered through the years
And the bell on his capacious till brought music to his ears.
An astute and clever businessman, he had a nimble brain
Which started working overtime one evening in the rain,
He saw the flooded beck race past and then felt ten feet tall
As he realised its potential for the benefit of all.
He spoke to Mr. Carradice and Mr. Joseph Raw,
(A much respected citizen and Percy's Pa-in-law).
Then Mr. Holberry Coates chipped in and all took paid up shares
And they saw a rosy future for the project which was theirs.
They built a concrete dam across the beck below Town Head
And lower down assembled their machinery in a shed.
Lots of inexpensive water they fed in through a spout
And by dark mysterious processes electric power came out.
It proved a nine days wonder and all was truth and light
Until it had stopped raining, when the light was far from bright.
Then the critics had a field day, and the cynics with a grin
Said one had to strike a match at night to see if t'light was in.
At six old pence a unit, you may think it awfully dear,
Considering cash values in that distant happy year,
Till you realise, of course, that each unit meant each light.
When you'd paid up that each quarter you could burn it day and night.
It had its teething troubles, as when fish swam down the spout
And gummed up the machinery till all the lights went out,
Or sometimes it would happen, in periods of drought,
You could leave it switched on all the time and all you'd get was nowt.
They called a Village Meeting to consider street lights too,
Sounding various opinions as to what they ought to do,
The young folk didn't want them, said Mr. Cutcliffe Hyne,
And in any case the old folk were all in bed by nine.
Another of the speakers was Mr. Bob MacLure,
Who reminded all those present of the hazards of manure
But the meeting soon decided to retain the status quo,
And those who wanted street lights could go to – – Jericho.
Sic transit gloria! Kettlewell Power is dead, we're on the Grid.
What used to cost a bob or two now costs several quid,
So give three cheers for Percy and those ardent pioneers
Who lit the Lamps of Progress, which have burned for sixty years.
R.H.Tomalin, 1974
Brian also supplies some helpful notes, which may be useful to family historians:
The electric power was switched on at an opening ceremony in 1914 and finally closed down in about 1949, when the enterprise was bought out by, and connected to, the National Grid.
Percy Inman, 1876-1944lived above the village shop and post office, which he ran, as did his brother before him. A keen photographer, his prints of village life at the beginning of this century, which one sees all around the village, were taken from glass plates found in the shop cellar.
William Carradice, 1861-1933was the village schoolmaster. He married Elizabeth Wiseman, one of his early pupils, and lived at Whernside House, now the Youth Hostel, which they ran as a guest house.
Joseph Raw, 1849-1929was a joiner, cabinet maker & father-in-law of Percy Inman.
C.J.W.Cutcliffe Hyne, 1865-1944was a Bradford citizen whose family spent long summer vacations in Kettlewell in the early part of the twentieth century, arriving by horse-drawn wagonette from Grassington railway station. He was the author of the Captain Kettleseries of works and a great traveller.
Robbie H. Tomalinwas an optician with a practice in Skipton. He married Mary Horner, daughter of Jane and Thomas Horner of Bordley and Conistone, and lived at Troutbeck, Kettlewell.
Brian has no information about Holberry Coatesand Bob McLure.
ILKLEY GAZETTE, 12th November 1998:
A fine photograph of the Burley-in-Wharfedale men who answered the call for recruits for the 9th Duke of Wellington Regiment at the outbreak of the First World War in 1914.
JackCulpan, Bob Peel, Alec Livingston, Alf Clarkson, Frank Brumfitt, Alf Booker, Ernest Ware, SamPhillips, Cliff Wilkinson, Bob Greaves, Alf Bradley, Tom Otty, Willie Mounsey, Harry Turner, Charlie Brear, Jack Calvert, George Parker, Fred Mann, Jim Seed, George White, Gordon Phillips, Woody Preston, Twig Lupton, Harry Dale, Tommy Carr, HaroldThorne, Arnold Constantine, Smith Mounsey, Harry Johnston, John Isle, Jim Howe, Harry Greaves, Ernest Raistrick, Walter Flesher, Harry Mason, Sgt. Baker, Arthur Howe, Joe Smith, Walter Thorneand Bert Hogg.
A BRIEF HISTORY OF
THE SOCIETY OF FRIENDS AND THE RAWDON MEETING
by Brian Clayton
George Fox (1624-1691) is credited with founding the Society of Friends c.1651/2. Born July 1624 at Fenny Drayton, Leicestershire, the son of Christopher FOX& Mary, née LAGO, he was brought up in a Christian family. His father, a weaver, held the office of churchwarden. George as a youth, was apprenticed as a shoemaker. At an early age he was moved towards a deeper concern about religion and, as a young man, he was involved with the separatists. Later, in Mansfield, he became leader of the Nottinghamshire "Children of Light" movement. After serving in prison in Derby 1650-1651 for his dissenting views, George went on a religious mission throughout the north. He preached in the Pendle area of Lancashire, throughout Wensleydale and the districts of Sedburgh and Dent. So rapidly did the views of this leader of men spread that within a short time he had gathered many Ministers (50-60) to go forth and spread his word. It is possible that one of these brought the faith to the Rawdon area but there is no record of a personal visit by George Fox to Rawdon.
The essence of the Quaker faithis that every individual person has the power of direct communication with God, who will guide him into the ways of truth. This power comes from the "inner light" of his own heart, the light of Christ. Quakers meet for worship, avoiding all ritual, without ordained ministers or prepared sermons. Often there is complete silence until someone is moved by the Holy Spirit to utter his message. In the early days Quakers gave vent to violent outbursts and disturbed church services. Friends had the habit of preaching at anyone who happened to be nearby and their denunciation of "Steeple Houses" and reference to the inner light, their addressing everyone as "thee" and "thou", their refusal to go beyond "yea" and "nay" in making an assertion or oath, must have played some part in bringing about the savage persecutions they endured.
Many Friends emigrated to Pennsylvania, founded by William PENN in 1682, and missionaries were sent out to many parts of the world. The former violence gave way to gentleness. Friends not only refused to take part in war, but also refused to resist personal violence. They took the lead in abolishing slavery, worked for prison reform and for better education. As we know them today, Quakers are quiet, sincere, undemonstrative people, with a somewhat serious turn of mind. The earlier peculiarities of custom and dress have been dropped and interpretation of the scriptures is more liberal. Although the Quakers refuse to take part in warfare, they are always ready to help: organising relief, helping refugees, or sending their ambulance units into the heat of battle. In Britain the Quakers have about 19,000 members and c. 214,000 worldwide.
the friends of rawdon: There is little documented knowledge of the Rawdon Society of Friends prior to the building of the present meeting house there in 1697-98, but it is evident that there was a strong following in the area. Friends were said to be numerous in Baildon, Esholt, Hawksworth, Burley Woodhead, Burley in Wharfedale, Guiseley, Yeadon, Rawdon, Horsforth, Bridge, Rodley, Thackley, Farsley, Calverley and Idle. A Friends' burial ground, at Dibb House Lane, Yeadon, was known to exist between 1669 and 1696. Several Rawdon Friends were persecuted for their faith. In 1682 other local Friends were imprisoned in York Castle for refusing to take the oath of allegiance and in 1683 Jeremiah Grimshaw and others were also indicted. By 1669 some fourteen Monthly Meetings had been established in Yorkshire, amongst them Knaresborough, of which Rawdon became a subordinate Meeting. The oldest surviving Minute Book for Rawdon Friends was begun in 1693, five years before the Rawdon Meeting House was built, when Friends met for worship at the houses of local members. The Women's Minute Book started at about the same time. It recorded the appointment of women Friends and the reports of those so appointed. It enquired into the suitability of intended marriages. Both records are difficult to read.
The deeds of the Friends' Meeting House at Rawdon are dated Feb 15th 1697/8. At this time a third of an acre of land was acquired from Francis RAWDON of Rawden, (altered to Rawdon since about 1872) in a place called Benton Hill, abutting on land belonging to Thomas HIRD. The land was conveyed to the following Trustees: Josiah GRIMSHAWof Rawdon, clothier, Richard HARDAKERof Rawdon, clothier, William HOLLINGSof Yeadon, William BUTTERFIELDof Rawdon, weaver, Timothy COWPER(Cooper) of Rawdon, clothier and Caleb VERITYof Rawdon, clothier. The Meeting House was built the same year, and bears a datestone (1697). Also on the site is a separate caretaker's cottage and stable. Now, in 1998, 300 years later; we are able to view these same buildings. With the exception of Settle and Skipton, the Rawdon Meeting House is the oldest in the Knaresborough area.
In 1832 the Society founded a school at Rawdon. It was originally intended for the children of those connected with the Society but, from 1871, the school was opened to all. In 1867, the Meeting House was lent to the Congregationalists, whilst their Chapel was being built at Benton Park. This suggests that a friendly spirit then existed between the various dissenting bodies and Friends.
James H. Pallister in his History of Rawdon, published in 1914, gives us the names of early Superintendents of the School: James BOLTON1832, Henry HAWLEY1833, William ROTHERAY1835, Frederick ROUS1845, William ABBOTT1851, Joseph SEWELL1852, Charles BARNARD1860, George WILKIE1882, J. E. WALKER1887, and John A. BARRINGER1890.
australian wool: The most common names in the Minute Book and on the surviving gravestones in the Rawdon Friends' burial ground, are THOMPSON, GRIMSHAW, and WALKER, with the ANDREW, COOPER, HARDAKER, HOLLINGSand HUSTLERfamilies predominant. It was a Rawdon Friend, William THOMPSON, who was first to make up Australian wool into cloth. The Thompsons were amongst the principal coloured cloth manufacturers of Yorkshire. Larkfield Mill, Park Mill and Low Mill were run by the family, largely engaged in the American trade. The first bag of Australian wool received in England was sent by the Rev. Samuel from New South Wales, in 1808, to his nephew, John MARSDEN, a hosier in Briggate, Leeds. Several Leeds woollen manufacturers rejected this raw, unscoured greasy, dirty wool. It was thrown away, recovered by a rag dealer; and sold on to Johnywell THOMPSON's, who produced from it the finest woollen cloth ever seen at that time. For many years allthe wool produced in New South Wales was purchased by the Thompsons of Rawdon. It is said that King George III was pleased with a suit made up for him from Australian worsted cloth, sent to the King as a gift by Thompsons.
Gravestones in the friends' burial ground: The Rawdon Friends' burial ground contains 101 headstones, which have been transcribed by the Wharfedale Family History Group. An explanation about the scarcity of ancient headstones in Friends' burial grounds is required: In the 1670s Friends were being advised not to place memorials to the dead in their graveyards, as it was contrary to their testimony for simplicity of life, tending also to mark a difference between those who could afford such luxury and those who could not. Indeed Friends were advised to remove such headstones. It took more than a generation for stones to be removed. Most, but not all, had gone by 1720. After 1850 Friends agreed, at the yearly meeting in London, that they could allow plain stones, in a simple common form, standard within each burial ground. Thus the majority of headstones in Friends' burial grounds are for burials after that time. However, I note that, at Rawdon, 22 gravestones predate 1850. The earliest to be seen are two memorials (nos. 50 & 51 in the list of Memorial Inscriptions) of Ann THOMPSON& Betty Thompson, which are dated 1830. Of the pre-1850 memorials, 15 relate to Thompson family members. All these stones conform to this simple design, which suggests that there may have been a relaxation, certainly at Rawdon, for some twenty years beforethe 1850 meeting in London. The plain, regular design of the gravestones in the Rawdon Friends' burial ground consists of a 2″ thick sandstone slabs measuring, 24″ x 24″, with a brief epitaph. An illustration of the two memorials to Ann & Betty Thompson, referred to above, are to be seen in the WFHG Booklet. The lettering on the 19th century stones was quite large but the 20th century lettering tends to be much smaller.
Quaker records: Family historians will be pleased to note that George Fox instituted a system of recording births, marriages and burials. No Friends' baptisms took place and no clergyman officiated at marriages and deaths, thus no record of such events will be found in Anglican parish records. The original Quaker Registers were surrendered to the Registrar General after the Civil Registration Act of 1837 and these registers are now at the Public Records Office (Class RG 6). Before the registers were given up, a Digest was made by the Society of Friends from the original manuscript records and a complete set for the whole country may be seen at the Friends' House library in London. Information of events after 1837 is supplied via the Friends' records deposited with the Carlton Hill Collection, situated at the Brotherton Library, Special Collection department, University of Leeds. The burial records of Rawdon are based on the above, a copy of which was kindly supplied to the WFHG, by the Rawdon Friends, as an abridged typescript. The records held at the Brotherton Library include burial notes and Monthly Meeting minutes, particularly Leeds Monthly Meetings for the past half century. In addition there are microfilm records held at the Leeds Reference Library for the Rawdon Friends' births, marriages & deaths, having dates as early as 1669, with some gaps to 1837.
The first burial recorded Rawdon is that of Jane BUTTERFIELD, who died the 1st month 31st day 1695. (The first month of the Julian Calendar was March, therefore 31st March 1695). This date is almost three years before the formal acquisition of the land. There are two OVEREND family gravestones, with 1696 dates, which were brought to Rawdon from the Dibb Lane burial ground at Yeadon, in 1932, when railway work was being undertaken in that area.
The above is extracted from the brief history of the Rawdon Friends, contained in the Wharfedale Family History Group booklet: The Memorial Inscriptions and the Burial Records of the Rawdon Quakers 1695 – 1976.
A SIXTEENTH CENTURY WILL
I wonder how many readers have an interest in the following beneficiaries.
Thomas HORNER, of Weston
In Dei nomine Amen: the year of our Lorde 1554 and the 28th day of Aprell. I Thom's HORNER, of the pishe of Weston, hole of mynde and p'fite memorye, ordenythe and make this to be my laste will and testament in manner and forme as dothe followe. First I bequeathe my soule to Allmightie God, and my bodie to be earthed within the church yarde in Weston. Allso I give to my dame BANTONone stone of wolle. It'm to Jennet HEWITone stone of wolle. It'm to Jennet MAWSONone stone of wolle. It'm I give to Agnes BANTON 3s.4d. It'm I geve to Izabell WODDE, of Myddelton, 3s.4d. It'm I give to the mending of the hye waye 6s. 8d. at the discrecon of my mr and my curate. It'm I give to Thomas STANDFORTHEmy best paire of hoosen. It'm to lytle Henry 6d. It'm to euery one of my mr s'vauntes 4d. It'm to Henry OLDERED, of Denton, one hole rayment at the discrecon of my mr BANTON. It'm George MAWSON4d. It'm to Richard OLDREDwyfe 2 yards of whitclothe. It'm to Agnes WHITE2 yards clothe. It'm James BRAYWHAIT4s. It'm to Agnes THOMAS4d. It'm Water STEIDwyfe 4d. It'm to BOLLANDEwyfe 4d. It'm to HARRYSON wyfe 4d. It'm to Agnes WODDE 4d. It'm to my curate 3s. 4d. It'm to s' Thom's, of Denton, 6d. It'm to Willyam THOMSONwife 6s.8d. It'm to Thom's PLOMLAND7s. being in the hands of Willm SLATER, of Denton. It'm I geve to my syster THACKWARYE6s.8d. , and to ether of her childer 6s. 8d. yf my goods will extende so farre. The residew of my goods unbequest I give to Costan BANTONand to Samson HORNERmy brother sonne, whome I do make myne executors of this my last will, and they to dispose it for my soules helthe at the discrecon of [sic]. These being witnesses, Edwarde MAWSON, Thomas STANDFORTH, Rycharde THOMAS, wth other mo. (Proved 4 Dec, 1554)
Thoresby VOL XXVII, part 1, p. 11
Will you marry me?
printed by kind permission of Steve Race, O.B.E., who writes:
105 years ago a relative on my father's side received through the post a proposal of marriage. She was Mary Foster of Middlemoor, Pateley Bridge, in Yorkshire, and she was the local beauty. My family has the original letter of proposal.
November 29th, 1866
My Dear Miss
I now take up my pen to write to youhopingthese few lines will find you well as it leaves me at present Thank God for it. You will perhaps be surprised that I should make so bold as to write to you who is such a lady and I hope you will not be vex at me for it. I hardly dare say what I want, I am so timid about ladies, and my heart trimmels like a hespin. But I once seed in a book that faint heart never won fair lady, so here goes.
I am a farmer in a small way and my age is rather more than forty years and my mother lives with me and keeps my house, and she has been very poorly lately and cannot stir about much and I think I should be more comfortable with a wife. I have had my eye on you a long time and I think you are a very nice young woman and would make me happy if only you think so. We keep a servant girl to milk three kye and work in the house, and she goes out a bit in the summer to gadder wickens and she snags a few turnips in the back kend. I do a piece of work on the farm myself and attends Pately Market, and I sometimes show a few sheep and feeds between 3 & 4 pigs agen Christmas. The same is very useful in the house to make pies and cakes, and I sells the hams to help pay for the barley meal.
I have about 73 pund in Naisbro Bank and we have a nice little parlour downstairs with a blue carpet, and an oven on the side of the fireplace and the old woman on the other side smoking. The Golden Rules claimed up on the walls above the long settle, and you could sit all day in the easy chair and knit and mend my kytles and leggums, and you could make the tea ready agin I come in, and you could make butter for Pately Market, and I would drive you to church every Sunday in the spring cart, and I would do all that bees in my power to make you happy. So I hope to hear from you. I am desprit and Yurnest, and will marry you at May Day, or if my mother dies afore I shall want you afore. If only you will accept me, my dear, we could be very happy together. I hope you will let me know your mind by return of post, and if you are favourable I will come up to scratch. From your well-wisher and true love. Simon Fallowfield
P.S. I hope you will say nothing about this. If you will not accept of me I have another very nice woman in my eye, and I think I shall marry her if you do not accept me, but I thought you would suit me mother better, she being very crusty at times. So I tell you now before you come, she will be Maister.
No, she didn't marry him, but I hope some nice girl did. SR
A WALK THROUGH BURLEY
by Frank Newbould
Extracts from an article written and published in the Wharfedale Observer, 1982. Mr. Newbould is a former headmaster of the village school as well as a local historian and Parish Church archivist. He started his walk at Cockrhydding on the boundary up Bradford Road.
Cockrhydding was bought in 1885 for the Burial Ground, often called God's Acre, and it is here that the Rt. Hon. W. E. FORSTERis buried. A cross and curb tell the story of his work as an MP and of his introduction, in 1870, of Compulsory Education. Near God's Acre in those days were two railway bridges, which carried the Wharfedale Railway, opened in 1865 and later known as the Otley-Ilkley Joint Line. The National School (now Aireville Terrace 1st School) log book records that the children had a holiday to celebrate the opening of the railway, and later regrets that excursion trains were affecting school attendance! In 1920, the time of which I write, some 60 trains a day stopped at Burley Station, and there was a flourishing Goods Yard, with bays where coal wagons could load. On either side of Bradford road were fields.
There were no houses until one reached Burley House, now Greenwood's. Tram poles carrying overhead electric wires stood along this road and a yellow trolley-bus plied between the bottom of Station Road and White Cross (better known now as Harry Ramsden's) The fare was threepence.
On the right hand side of the road towards Burley was the site of the Burley Horse Race Course. Races were held here in 1869. The Georgian cottages were similar in appearance then as they are today and had probably been erected by the owners of Burley Hall. Near them was a cycle shop owned by Matt. HUDSON. Post Office Yard was the site of Burley's first post office, though the shop was also a greengrocer's and later a cobbler's. By the window of the shop in Post Office Yard is the post of the old stocks. Opposite is the Pudding Tree, now a sapling but which was once an elm of fairly large proportions. There had been a seven-yearly feast of the Great Burley Pudding, when 30 stones of flour and a similar amount of fruits were cooked and sold. The last feast of the pudding was in 1787.
The church of St. Mary opened in 1843 and is the third church to stand on the site. It was a much darker place than it is today. Lit by gas; the walls in buff, green and red depicted saints, and I remember, as a choir boy, looking at "Doubting Thomas" on the wall of the chancel. The previous church was built c. 1641 and was very small. Previous to that was the chapel of St. Michael, probably a travellers' chapel built by the Lord of the Manor in the 13th century and we know that, in 1526, Robert WRAYleft 20d to "amending the bell and providing a torch".
I never read a book before reviewing it. It prejudices a man so. Sydney Smith
WINDYRIDGE/HAWKSWORTH
by Joseph Peter Davey
In the early years of this century– when trams ran to Guiseley and you could buy a popular novel for two shillings (10p), W. Riley, "The Yorkshire Novelist" produced a novel, Windyridge, which became so popular in its day that many of the owners of new houses being built in suburbia chose that name as their address.
The original cottage, around which the story is told, is the single storey property near Hawksworth graveyard, at the junction of Main Street and Odda Lane. My father's family lived across the road at Sunnyside farm at this time and his sister kept a copy of the book, in which she had noted the names of their neighbours, on whom the characters were based. She found it to be entirely credible.
Riley denied that there was any connection with persons living or dead. Be that as it may, the locations are thinly disguised and anyone who wishes to find out how life was in a small village, in a period just slipping from first-hand recollection, will probably enjoy this account of life in a part of Wharfedale and Airedale.
Windyridge, of course, is Hawksworth; Fawkshill is Guiseley; Airlee is Leeds; Broadbeck is Bradford; Romanton is Ilkley; Marsland is Baildon.
Cosy and sentimental it may be, but I feel it has a place with the old sepia photographs of people and places long gone. I paid two pounds for my copy on a second-hand book stall.
CHRISTIAN NAMES
Extracts from article by Rosalind Moffitt for the Northumberland & Durham FHS.
First Names First, by Leslie Alan Dunkling, has an interesting and helpful table showing the popularity of many names from 1850 to the present day, based on figures from the GRO birth indexes. For example, if you find a possible ancestor called Simonin the 1851 census, this book will tell you that only two boys in every 10,000 had this name at the time. Therefore the likelihood of the Simon you have found being the right one is very high. On the other hand, for every Simon in 1850, there were over 700 Williams, almost 400 Thomases and 600 Johns. In 1850 the name Rogeris used in less than 1 per 10,000 male births. By 1875 there were 8 per 10,000 (compared to 1133 per 10,000 Williams) and by 1900 there was 1 per 10,000. Therefore the name Roger was quite rare in the 19th century.
Whenever I feel the need for exercise
I go and lie down for half an hour until the feeling passes. Will Rogers
LORD THANET'S BENEFACTION
TO THE POOR OF CRAVEN IN 1685
by Roy Stockdill
While browsing in the Society of Genealogists Library in London, I came across a little booklet entitledLord Thanet's Benefaction to the Poor of Craven in 1685. It was published in 1978 by the Friends of the Giggleswick Parish Records from the Skipton Castle Archives, which are deposited with the Yorkshire Archaeological Society in Leeds. I have been haunting the Yorkshire section at the SoG for years, but somehow this booklet had escaped my attention, tucked away, as it was, amongst a cornucopia of other material.
The 6th Earl of Thanet (1644-1721) inherited the Skipton estates in 1684 on the death of his brother, the 5th Earl. Both Thanets were grandsons of the celebrated and formidable Lady Anne Clifford, who rebuilt Skipton Castle after the Civil War. Though he rarely visited Skipton, Thanet was known as a philanthropist; indeed, it is claimed in the booklet that he was a greater benefactor than Lady Anne, who achieved much more recognition in this area. He instructed his stewards to make distributions to the poor. These payments were quite separate from the normal payments made by the Overseer of the Poor, and Thanet was apparently more generous in his interpretation of who qualified as poor.
The booklet contains several hundred names, from 1685, of people who were recipients of the Earl's gifts and, therefore, it is a valuable genealogical source for the Craven area. Used in conjunction with parish registers and other records, such as the Hearth Tax Returns of the same era, these lists may help in identifying ancestors.
The book covers the following parishes: Skipton, including Bolton, Bolton Bridge, Hasselwood, part Beamsley, Embsay, Eastby, Barden, Halton, Barwick, Draughton, Sturton and Thorlby; Kildwick, including Steeton, Sutton, Glusburne, Bradley, Farnhill, Cowling and Silsden Moor; Keighley; Bingley, including Morton; Ilkley; Addingham, including Addingham Moorside and part Beamsley; Burnsall, including Cracow, Hetton, Bordley, Rilston, Coniston, Kilnsey, Appletreewick and Hartlington; Linton in Craven, including Hebden, Threshfield, Grassington (or Grissington, as it was also called); Carleton, including Broughton; Thornton in Craven; Marton; Gargrave, including Coniston Cold, Winterburne, Flasby, Bank Newton and Eshton; Kirkby Malhamdale, including Kirkby, Hanliff, Calton, Scostrop, Ayerton and Otterburne; Long Preston, including Hellifield, Wigglesworth, Halton West and Long Preston Hospital; Giggleswick, including Settle, Langcliffe, Rawthmell and Stainforth.
Here' s an example of the kind of thing the record contains:
March 18th 1685 [/6] (dates corrected to modern version)
Catalogue of ye poor in ye township of Burnsall in ye yeare of our Lord 1685/6
AnneKIDDWiddow, Eden Kidd & Isabell her children 1s 6d
JohnMOREBY& his wife, his doughter Dorothy & Margret 1s 6d
young vidua (Deleted in his familie) 0s 6d
WiddowPROCTERand her doughter Anne 0s 6d
ThomasBOWNE& his wife, Elizabeth Mary John Anne & Margret,
his children 1s 0d
MatthewCLAPHAM& his wife 6d
ChristopherBLAND& his wife, Mary his daughter & James Water
his grandchild & Joan & John her child 1s 6d
FrancesBLAND, widdow, Rebecca & Isabell her children 1s 0d
WiddowKAY& her three children 6d
HenryYOUNGE& his wife, John Thomas & Charles his children
1s 0d
ThomasANDERSON, Richard Thomas & John his children &
Elizabeth in his familie 1s 0d
RosamundBLANDwiddow, William Bland Margrett Mary & Alice
her children 1s 0d
AgnesBLANDwiddow, Thomas Bland Elizabeth & Anne her children 1s 0d
ElizabethBLANDWiddow Bartholemew Sarah & Elizabeth her children 1s 0d
JohnHARDCASTLE& poore Ned a poore boy kept in ye towne & RogerBROUGHTONan other poore lad 1s. 6d
Susan Joy & Elizabeth TENNANTwiddows & Joan KIDDwiddow1s 6d
You will note that the above entries are a goldmine for anyone who has ancestors called BLANDin Burnsall in 1685 – no fewer than four Bland widows with their children and another family headed by Christopher Bland. I would love to know who "poore Ned" was!
The book has some marvellous detail in certain entries. For instance, this one from the township of Wigglesworth: "William HARRISONand his wife who hath laid bed ridden five years with two small children, 2s 6d." Another interesting sidelight on the times is given in the records for Ilkley, where there were some 230 recipients, many in families with five or six children, but none of whom got more than two shillings. The very last entry in Ilkley reads, " Mr. Thomas FARRAND, a Decayed Gent – 5s 0d." I expect that, being a "decayed" gentleman, he had a higher lifestyle to keep up, so was seen as being relatively poorer than the others!
HOW "FAMILIES" HAVE CHANGED
by Wyn Chalker
The preceding article by Roy Stockdill includes the words "in his familie", which words should sometimes be treated with caution by family historians. Before the Industrial Revolution the members of a "family" were not necessarily related to each other.
At the beginning of 1660 Samuel Pepys wrote in his diary:
"Blessed be God, at the end of the last year I was in very good health – – – I lived in Axe Yard, having my wife and servant Jane, and no more in family than us three." Jane Birch, his wife's maid, remained a friend throughout the diary and is regarded as a member of his family.
At the beginning of 1661 he wrote:
"At the end of the last and the beginning of this year I do live in one of the houses belonging to the Navy Office as one of the Principall Officers. After much trouble with workmen, I am now almost settled – my family being, myself, my wife, Jane, Will Ewre, and Wayneman, my girl's brother. Will Hewer was Pepys'clerk in the Navy Office and his life-long friend and Pepys' "family" now consists of five people, soon to become six, as he writes, "I am now taking of my sister Paulina to come and live with me." Three of the six members of the family are not related to him.
In The World We Have Lost, by Peter Laslett, which I recommend as an interesting book for family historians, he writes about the changes that have taken place in "the family". Writing about a typical household in 1619, he refers to a baker who works in his own home:
"There were thirteen or fourteen people in such an undertaking: the baker and his wife, four paid employees who were called journeymen, two apprentices, two maidservants and three or four children of the master baker himself. All these people ate in the house. Except for the journeymen they were all obliged to sleep in the house at night and live together as a family. The only word used at that time to describe such a group was "family". The man at the head of the group was then known as the master or head of the family. He was father to some of its members and in place of father to the rest."
Laslett goes on to emphasise the importance of patriarchal families such as these before the Industrial Revolution. The word we would use today is "household".
The World We Have Lost, by Peter Laslett [Methuen & Co. Ltd]
ISBN 0 416 08400 1 (1965 and several reprints thereafter)
FAMILIES ON THE MOVE
by Stanley Merridew
Wharfedale is the home of some of the country's largest country estates. One immediately thinks of the huge holdings of the Duke of DEVONSHIRE, the LASCELLESfamily at Harewood and of theFAWKESfamily's estate at Farnley near Otley. According to the Return of Owners of Land 1872-73 those three between them owned over fifty thousand acres in the West Riding.
Earl of Harewood, Harewood House 20329 acres
Duke of Devonshire, Bolton Abbey 19332 acres
Ascough Fawkes, Farnley Hall 11204 acres
From Return of Owners of Land 1872-1873
If one adds in the families of IBBETSONat Denton, VAVASOURat Weston, SHEEPSHANKSof Arthington, STANSFIELDof Esholt, HAMMONDof Arncliffe and STANHOPEin Horsforth you have covered a vast tract of land and numerous homes managed by an army of servants – our ancestors!
Prior to 1920 over 10% of the population were employed "in service". It is easy to think that only the gentry would have servants but many families we would regard today as middle class (whatever that means!) would have employed a servant or two in times past. This would include those employed not just in the house but also the gardens and stables. An undertaking such as Harewood would require a vast army of domestic servants to manage the day to day running of the house and gardens.
Servants were treated very much as chattels, to be moved to the most convenient location. This would probably include more than one home. The Lascelles family of Harewood owned property in the North Riding, London and the West Indies. The Duke of Devonshire had homes in London and Ireland in addition to his more famous homes at Chatsworth and Bolton Abbey. Families would sometimes alternate between homes and, consequently, if our ancestors were employed in this manner, they can turn up in the most unlikely of places.
It is in these areas of research that a tool such as the 1881 census really comes into its own. One can search nationally for an individual, family or surname, or search the regional indexes and see the individual or family as recorded by the enumerator. For example at the time of the 1881 census thirteen servants were living at Farnley Hall. Their places of birth include Leicester, Northumberland, Staffordshire, Shropshire, Rutland, Bermuda, and two from Huddersfield, where the Armitage family lived, who were related to Ascough Fawkes. One wonders if they came recommended, as often happened with servants. At Harewood House Henry Lascelles shared his residence with twenty three staff and, once again, their origins are varied. The housekeeper was Durham born, whereas the two lady's maids were from Surrey and Devon. In fact out of the twenty-three only five were born in Yorkshire, none from Harewood. At the time of the census Bolton Hall was inhabited by just four servants, all born in Derbyshire.
If we searched further, looking at their London homes or elsewhere, the same pattern would emerge. Also, when sons or daughters married and left the family home, often a servant or two would leave with them. The problem becomes even more interesting when the servant marries and raises a family in service. We then find children with a variety of places of birth, and a mystery as to who their employers were at various times.
There are a number of other ways of finding ancestors who moved around. A very large part of the 1851 census has now been indexed by family history societies and some, like our group, have also completed parts of the 1861, 1871 and 1891 census. The current national project, "The National Burial Index" will help with burials. For marriages the most comprehensive index is Boyd's Marriage Index kept at the Society of Genealogists library in London. The Yorkshire section is available in York library. Most counties, usually at the county record office, have a copy of their own section. Family history societies have also compiled marriage indexes to add to the work of Boyd's Marriage Index.
Another source is the "Strays Indexes", again mainly the work of family history societies. Any references to individuals born outside the county, found in records of any kind, are passed on to the relevant society. In Yorkshire these have been published in microfiche form. With male servants it maybe possible to find them on the records of the Servants' Tax, which was effective from 1777 to 1852. The SOG holds the records for 1780. I believe the other returns are at the PRO.
To delve further into the subject of missing ancestors I would recommend the following: My Ancestors Moved, by Antony Camp
Marriage, Census and Other Indexes, by Jeremy Gibson
Photo by courtesy of Flintshire Record Office: Gardeners at Wepre Hall
COPYHOLD
by Audrey Daykin
A few years ago, when I was in the Public Record Office at Kew, researching the 1910 Finance Act, I came across properties said to be "Copyhold", e.g. one was paying £15 per annum to the Manor of Howden, East Riding of Yorkshire, and another was paying £75 p.a. to the manor of Cawood, WRY. More recently I have found that, in 1923, £410 was paid to the Manor of Howden for the copyhold to the property for which my family had paid rent. My interest was heightened – what was copyhold? I read what I could in as many books as I could. Recommended are Family Roots, by Stella Colwell, (1991), and My Ancestors were Manorial Tenants, written by Peter Park in 1994.
Copyhold dates from when the villeins were made free, at which time they appeared before the annual meeting of the Court Baron and received written evidence of their right to their holding, i.e. instead of being serfs they became tenants and had in their possession true copies of the relevant entries in the Rolls of the Court Baron.
The freeing of the villeins mostly took place in the 14th and 15th centuries. The records of the manor of Hebden used the phrase "from time immemorial" when I read in them that the Bishop of Durham and his predecessors were in right of the lords of the manor of Howden.
It must be remembered that at that time the population of England had been decimated by the Black Death and so the villeins were in a strong bargaining position. They seized their freedom in ever increasing numbers. Having received their freedom, the tenants had to continue to give some service to their Lord of the manor, usually agricultural or military, but this practice gradually fell into disuse and, since the 16th century, the service to the Baron has been in the form of a nominal rent.
Thus copyhold was a form of land tenure which, in practical terms, became a permanent holding to the descendants of the original grantee. Originally unrecognised at Common Law, it was subject to the customs of each individual Manor, as determined in the Court of the Baron. Within a manor there were several courts dealing with different aspects of administration, but land registration was within the province of the Court of the Baron.
The vast majority of copyholders were said to be customary, whose right to inherit their holding was locally determined, according to the customs of the Manor. Each contract was negotiated separately, when the putative heir appeared in person before the court. The court minutes recorded the death of his predecessor and the new admission. Note the masculine terminolgy; definite lines of inheritance were followed. When the contract had been agreed, the new heir paid a fine (a charge) to the court and then the agreed terms were binding on both sides. A skilled negotiator could get his sons named to follow him, thus increasing the family's security of tenure quite considerably.
Some copyholders were said to be "Natural", in the line of inheritance by long established right. Natural copyholders often had a connection with William the Conqueror. Less secure were the "Tenants at Will", who were at the mercy of the baron. He could repossess their property, if he so wished, and the tenant had no redress in law.
The copyholder could surrender his holding back to the Manor. He could sublet it but, obviously, it was not his to sell. The copyhold property purchased in 1923 for £410 subsequently sold for a very much higher sum of money, such was the value of the freehold. If a copyholder died without any relatives, his land reverted to the Manor, not to the Crown as was the case in common law.
It was not until after 1815 that copyhold properties could be bequeathed in a will; and even so, the Court of the Baron had to be informed and the change noted in the Court Roll. Interestingly, I found two bequests to spinsters; loving fathers caring for their daughters. The 1923 indentures in the Court Roll of Howden Manor used the expression "Persons deriving title under her". It was a spinster's nephew who bought it.
Copyhold was a kind of perpetual and heritable tenancy and, obviously, having a clearly defined contract was a much more satisfactory position to be in. Once agreed, it could not be altered until the next heir appeared before the Court of the Baron. In manorial custom the eldest son had an automatic right to be heir, if he so wished and the Court approved.
Copyhold was abolished in 1926, to be replaced by freehold and leasehold. It had been so widespread that negotiations relating to the conversion of land tenure continued until 1950, when it finally went for ever.
Footnote: In 1952, the heir named in the 1923 indenture paid £4.13s.7d compensation to the manor of Howden. The archivist on duty in Beverley Record Office explained that often, when selling a copyhold, the Manor retained specified mineral and agricultural rights to the land and this would have been a simple tidying up procedure, the manor being paid to waive mineral rights. The next property I wish to research is situated in what is now the Selby coalfield. How does the expression go – "Hope springs eternal in the human breast."
The ideal of happiness has always taken material form in the house, whether cottage or castle; it stands for permanence and separation from the world. Simone de Beauvoir (1908-1986)
BAILDON MOORSIDE
by J. Peter Davey
In the 19th centurythe area known as Moorside consisted of a number of small groups of houses scattered over quite a large area of the heather moors, crossed by the old Baildon to Otley road, which was the route to the mother church of the huge Otley Parish. The various communities had names such as The Row, Low Springs, Sconce and Low Hill and they were originally the homes of the coal-miners who worked the bell-pits on the Moor. Later, many of the residents were employed in the textile industry.
Stephen ATKINSONwas my great-great-grand-uncle and his family owned and lived at Low Hill for some six generations, until the properties were sold in the 1950s and, soon after, were demolished. They had no mains supplies of any kind. There were fifteen houses at Low Hill, which the 1841 census records as being occupied by people from the following families: ATKINSON, PARRAT, REYNARD, PICKARD, PALEY, WILDMAN, MOORHOUSE, MIDGLEY, ROBINSON, GREENWOOD, PLETTS, WHITTAKER, MAWSON &WALLER.It has not been possible to confirm a family legend that the Atkinsons lived on the ground floor of two houses which had been joined together to enable the upper rooms to be used as a chapel. However, at the West Riding Deeds Registry at Wakefield, there is a document which may indicate that some re-building had been done about 1840.
A Primitive Methodist Chapel was erected circa 1870, with no provision for burials. It was alongside and adjoining No. 1 Low Hill, and this has now been converted into a house and is virtually all that is left of the community which Stephen Atkinson would be able to recognise. Of course, funds needed to be raised to pay for the chapel and the Anniversary was a time of peak revenue. Aunt Bella baked jam tarts to sell to visitors and the harmonium was hoisted onto a flat-cart to accompany the hymn singing. The crowded throng stood about on the Moor; the event was known locally as a "Stand Up". For a time the Chapel Treasurer was John Stephen BOOTH, my great-grandfather, and, to ensure that the outlying householders were not deprived of the opportunity to contribute to the cause, he called on the assistance of two schoolboys, from Bradford Grammar and Belle Vue. Thousands of people from the towns came to the Moor for fresh air, and the two boys came to search for old rocks among the heather. Their education and posh voices enabled them to charm the visitors into parting with their money!
The Bradford schoolboy was known at Low Hill as Jack PRIESTLEY and, in later years as J. B. Priestley. His friend with an interest in the old relics on the Moor was Mortimer WHEELER, later to become Sir Mortimer Wheeler, the archaeologist and an early BBC personality.
THE 1910 FINANCE ACT
by Audrey Daykin
Often called "The Modern Domesday", this Act of Parliament enabled the largest land valuation exercise since 1096 to take place. What is interesting to us, as family historians, is that ALL property was included; however humble the abode, a detailed description was made of it and these records are in the Public Record Office in Kew. Less detailed descriptions are in the County Record Offices but that series is not as complete as those in the national archives.
The reason for doing this was to reform the rating system, and these property valuations were the foundation of the rating system which most of us remember. Indeed, never having been improved upon, only added to, they are the basis of the modern Community Charge.
These property descriptions tell us the precise living conditions of our forebears in detail.
In this example notice the plain speech: Closet bad. Water supply not good. Drinking water across the road. The precise location is shown and even the fruit trees have been counted. I love the description of the fruit trees: "some very old and past it". The gross value of this property was given as £296.
The records which are accessible to us are:
valuation books.
Held by the County Record Offices, these give the location, ownership, tenancy and actual occupancy, together with a broad description of the property.
field books These are in the PRO, Kew, and contain all that is in the Valuation Books plus a detailed description of the property. The examples given are from Field Books. The PRO ref. for them is IR 58. Quite often the valuer made drawings to illustrate a particular point. I have one which contains a drawing of a cow shed and, inside, he has written "8 cows". Another one tells me that the ground floor was given over to the Post Office and workshops.
maps Specially printed Ordnance Survey maps which contain every single property in the country.
These maps are the starting point for a search. The PRO ref. is IR 121 and IR 124-135. Each property on the maps has a number, which is the same as its number in a Field Book.
This next example shows the tenancy details. The valuation of this one, buildings plus land, was £1615.
This area of research probably sounds complicated but it is time-consuming rather than difficult. It must be emphasised that the results are well worth the effort. It is particularly interesting if the property has since been demolished.
The Valuation Office divided the country into small units but these units did not always coincide with the ecclesiastical boundaries, and this can present problems when searching the archives. However, I found the Search Room staff very helpful, well used to beginners. This massive exercise was completed in 1915, by which time 95,000 Field Books had been filled. This is an amazing amount of work, when you consider that World War 1 had interrupted it. No wonder it is nicknamed "Domesday".
The last example is a piece of a map of Cliffe, near Selby, and, if you look down near the bottom, one of the long thin properties is No. 50 (starred). That is the one mentioned previously, which had 90 decrepit fruit trees. Note the exact position and precise measurement of 0.986 of an acre.
All my examples are rural properties. A colleague searching in the East End of London quite simply found street after street of identical houses, which was not very interesting. Another found that a property, remembered with affection, had in fact been a basement in a tenement. As always with family history, be prepared for the unexpected.
These valuations established a fixed point from which to measure subsequent increases in value. Although less than a century old, they should not be overlooked as an historical source.
For further reading, may I suggest:-
Maps for Family History[PRO Readers Guide No. 9]
Tracing Your Ancestors in the PRO, Kew [HMSO 1990]
Family Roots, by Stella Colwell [1991]
A BURNSALL MISCELLANY
by Stanley Merridew
On a recent visit to North Yorkshire Record Office at Northallerton I became sidetracked. Instead of starting on my intended task for my morning's visit I thought I would just have a look at a particular film that caught my eye. Consequently I spent the whole morning reeling through a miscellaneous film on Burnsall records.
"Miscellaneous" is the best name I could come up with for Reel Number 1775, because it certainly contained a rare assortment of goodies for those with family links in the parish of Burnsall. For example why should it include one, yes just one marriage entry. Namely:-
Joseph Constantine STOCKDALE, full age, bachelor, grocer of Bolton le Moors, son of William STOCKDALE, grocer and Mary CONSTANTINE, full age, spinster of Appletreewick, daughter of Richard CONSTANTINE farmer. Witnesses John INGLEBY and John STOCKDALE. Married by licence 3 October 1848.
The signatures appear to be in the same hand as the marriage entry and there is no indication of a mark, but one would expect a grocer to sign his name. Perhaps the clue could be that the marriage was by licence. I wonder if this entry is in the parish register? Did it ever take place? Another oddity was the mention of banns being called in Skipton for John Thomas BELLof Skipton and Florence LISTERof Burnsall for the first time on 6 March 1932. Both of these entries were probably on loose sheets of paper found in the parish chest. I also found a letter from the churchwardens to the Earl of Craven recommending the appointment of Mr. BERRYas rector following the death of W. BURY. This was signed by what appears to be all the parishioners, probably all ratepayers. It was undated but from the memorial inscriptions we know this happened in …$$$$…
The incumbent in the earlier part of the twentieth century obviously had family historians in mind when he compiled his annual list of inhabitants from 1911 to 1928. This shows the head of house and number of males and females in each dwelling for the townships of Appletreewick, Burnsall, Hartlington and Thorpe. Another useful list of inhabitants is the "Poll – Those for and Against the Church Rate", dated 4/5/6 June 1862 and the Land Tax Assessment 1867/8.
There is also a number of documents relating to Burnsall Grammar School, the most useful being the registers 1876-1892. In the December issue of the journal, the "Chadwick" diary mentions the reading room at Burnsall. Here I found letters from Mr Chadwick to J. A. BLANDand William BLAND concerning the siting and conversion of the reading room dated 1892 to 1896.
I hope some of the above is of use to someone out there. I didn't achieve what I set out to do but I certainly enjoyed my morning as you can imagine. And there is always another day.
FAMILIES ON THE MOVE II
by Stanley MERRIDEW
The creation of the railway network in the nineteenth centurydramatically changed the countryside. The permanent way with its stations, signals, cuttings and embankments made physical alterations to the scenery. The ability to move goods and people long distances made economic and social changes.
Here, in Wharfedale, Ilkley progressed rapidly when the Wharfedale line, later known as the Otley & Ilkley Joint Railwayopened in 1865. The census years 1861 and 1871 show a large increase in population. Without a rail connection its development as an inland resort would not have happened. Later Grassington and Bolton Abbey were popularised as tourist centres, partly due to the improved access brought by rail travel. Towns and villages closer to Leeds and Bradford became desirable areas for the homes of millowners. All these factors meant the creation of employment and a whole new class of employee, the railwayman.
The building of the railways brought in huge numbers of labouring workers, many moving from one project to another. Often many of these jobs were taken by Irish immigrants. Many also perished due to appalling safety standards at the time, as shown by the numbers killed during the building of the Bramhope tunnel. Records of those employed in the building of the railways is scant but the Melledgen Press, Southbourne, Bournemouth have published much information about railway contractors.
The records of the railway companies are complicated because most of the early routes were started by individual companies, numbering over two hundred and fifty, which were later amalgamated to form regional rail companies prior to nationalisation in 1947. The Federation of Family History Societies has published Was Your Grandfather a Railwayman,by Tom Richards, which lists the known source records available and where to find them.
For those not familiar with the former railway system in Wharfedale, the Otley & Ilkley line ran off the Leeds to Harrogate line from Arthington through Pool to Otley, joining the Menston to Ilkley line north of Menston. Later in 1888 the Ilkley to Skipton line via Addingham and Bolton Abbey opened. This was followed by a link to Grassington via Rylstone in 1902. The Rawdon to Guiseley line also included a spur to Yeadon, used mainly for goods rather than passengers. So all in all our small area employed a considerable number of railwaymen.
We are fortunate that some records of the Otley & Ilkley Joint Railwayhave survived and are housed at the Public Record Office in Kew, RAIL 554, piece numbers 24 & 25. These cover the years 1865 to 1901 and show the names, position, wage or salary of every employee between those dates. It includes date appointed, date of transfer or promotion, date leaving and sometimes gives the reason. Staff in 1865 were as follows:-
ILKLEY
1 Aug J. NICHOLSON supervisor £150
1 Aug C. F. MILLAR booking clerk £45
1 Aug W. SHACKLETON foreman porter 18/-
1 Aug J. ROBINSON porter 16/- dismissed 16 October drunk
1 Aug C. GRIFFITHS porter 16/- dispensed with 16 December
1 Aug J. MOORCROFT pointsman 18/-
1 Sept H. GILL porter 17/-
7 Sept A. LISTER porter 17/-
16 Oct W. COUZENS porter 17/- replaces Robinson
4 Nov Anne SHACKLETON cleaning 5/-
BURLEY
1 Aug A. LISTER stationmaster £80
1 Aug G. SELLERS booking clerk 10/-
1 Aug A. LISTER porter 17/- transferred to Ilkley 7/9/65
4 Nov E. FOWLER cleaning 3/-
7 Sept H. WARWICK porter 17/- replaces A Lister
OTLEY
1 Aug W. FOX stationmaster £80
1 Aug J. A. GOTT booking clerk 15/-
1 Aug W. BULMAN porter 18/-
1 Aug G. ROBINSON porter 16/-
1 Aug D. WHITELEY porter 18/-
By July 1866 we find Ben Rhydding station has opened, with D. WHITELEY as stationmaster, transferred from Otley. However his stay was short-lived as he resigned on 24 January 1867 and was replaced by W. COUZENSfrom Ilkley. Throughout the records you find many instances like this, with transfers around the area, plus a few arriving from the Midland Railway and the Great North Eastern. These two companies jointly ran the line and the original staff came mainly from these companies and were not locally born.
Whilst browsing, I turned to the reverse of the book to find a few treasures. Firstly a "List of Fines". This was a record of staff reprimands and, incredible though it may sound today, fines for a variety of offences from lateness to dangerous practices. One W. CHAPMAN appears to have been a regular offender:-
24 Sept 1890 1/- visiting a public house during duty hours.
9 Mar 1892 2/6 abusing foreman after neglect of duty.
2 July 1897 Suspended for seven days, drunk on duty.
8 May 1898 Reprimand for lateness.
I also found a record entitled A List Of Staff At Ilkley who are single, showing name and address of relatives and friends in the case of accident. Dated 14 November 1888, it gave some idea of the mobility of railwaymen, for example:-
F OSBORN, goods porter Mr & Mrs Osborn, 13 Spoil Bank, Rugby.
B GIBSON, goods porter Mrs L. K. E. Gibson 51 John Street, Luton.
The number of staff employed is surprisingly high. According to a photograph in the Ilkley Gazette in 1924, Ilkley station had a staff of forty-two. This included engine drivers, porters, booking clerks, platelayers and guards. Even small stations would have employed considerable numbers of staff. Shift working was common due to the long operating hours, so that the full complement would often number at least a dozen at most stations. At Burley in 1880 the staff was twelve and one imagines Guiseley would have been similar. At Otley and Horsforth, with sidings in operation similar to Ilkley, the numbers would have been greater.
Railway staff at Embsay station, near Skipton, before the first world war
Railway staff did move quite frequently within a company. It was often necessary to gain promotion. The railway companies also provided accommodation for some employees. Most of us will remember the Station Master's house and the staff cottages close by the local stations. By studying the available census records we can gauge the extent of the railway staff's mobility, for example:-
1881 HORSFORTH, Calverley Bridge– James ALLANACK, Station Master, born Aberdeen. His wife Harriet was born in Derbyshire, his children were born in Hornby and Wennington in Lancasjire and at Clapham, Yorkshire.
At the same date a selection of local staions shows the following station masters:-
Arthington – George DONALDSON, age 48 from Cumberland
Burley – Alfred ALCOCK,age 37 from Longford, Derby.
Ilkley – James NICHOLSON,age 45 from Grayrigg, Westmoreland.
Esholt – William MORTON,age 29 from Herefordshire.
James Nicholson remained at Ilkley until 1906. Both Alfred Alcock and George Donaldson were in their posts in 1891.
It was not only the Station Masters who moved around. In fact the majority of the railway staff appear to be living away from their place of birth and in most cases , a considerable distance removed. This obviously creates difficulties in searching for railway ancestors but where staff records do exist it will often give you more information than with other occupations. Railway magazines can sometimes provide further clues and these can be found in a variety of locations including the nearby Railway Museum at York. For the earlier periods the problem can sometimes be overcome by checking "Strays Registers" as mentioned in my previous article and maintained by family history societies.
On any Sunday in summer you can join a slow train of cars making their way up the dale from Addingham. On most weekdays the queue into Leeds starts in Adel. Now work and leisure patterns have changed and people travel much further than previously. Perhaps the railways came too early!
Sources: Rail 554/24 & 25 Public Record Office.
The Railways of Wharfedale by Peter E Baughan.
The Otley & Ilkley Joint Railway by F Smith.
Was Your Grandfather a Railwayman? By Tom Richards.
Photo courtesy of Donald Binns, from his book "Rails to the Dales"
Some birth announcements from the Daily Telegraph, sent in by Rev. A Recell:
Duane Pipe; Ida Down; Chris Cross; Bee Short; Wyre Walker; Beatrice (Bea) Good; Sandy Pitts; Michael Smelt; Richard (Rick) Shaw; Lily Lilley; Laurie Loade.
MARRIAGE ALLEGATIONS and BONDS
by Audrey Daykin
1-08-1796 William PENROSE & Mary HARRISONwere married by licence.
This simple statement, so often seen in Parish Registers, opened up a whole new area of interest in family history. The FFHS booklet, Bishops' Transcripts, Marriage Licences, Bonds and Allegations, led me to the Borthwick Institute in York, where I found the Allegation and Bond for this marriage.
A licence to marry was issued by the Diocesan Consistory Court, and, to obtain one, an Allegation had to be made by one of the partners, – usually the bridegroom but occasionally the bride. The Allegation was that there was no reason why the marriage should not take place. The wording of the Allegation was in the rich language of the Church of England. William Penrose swore an oath on "The Holy Evangelists"; he "prayed" a licence.
The Allegation gave information not found in the Parish Register. The petitioner's name, address, age and occupation were given, together with the name and age of his bride. The marital status of both was included and William signed his Allegation, his signature witnessed by two people. The church where the marriage took place was also stated. Clearly, this replaces Banns. It is a fast track to a marriage but, in 1796, there were some interesting differences.
I obtained two documents and the second one was the Bond. The person named in the Bond promised to pay £200 to ensure that the marriage took place, and his money became forfeit if the marriage was found to be contrary to Canon (Ecclesiastical) Law. £200 was a lot of money. A table of Historical Money Values(Family Tree Magazine, March 1999)makes this the approximate equivalent of £10,000 today. So entering into a marriage Bond on behalf of a friend was not something to be lightly undertaken. When "£200 of good and lawful money of Great Britain" was at stake, the person involved would need to be very certain of his bridegroom friend before he signed the document. The man involved in the Bond also swore, on oath, that one of the couple had lived in the parish where the marriage was to take place for 21 days. The parish of the other one was named but her length of residence was not stated.
The Bond was valid for three months. If the marriage did not take place within that time, a fresh application had to be made. Until 1753 the couple had a choice of churches, in that two were named on the Bond. Perhaps last minute decisions are nothing new. During the Commonwealth period a magistrate was involved, as the Bishops had been relieved of their duties but, apparently, a number of conscientious clergy quietly maintained these records until such time as they could be reinstated in the Diocesan archives. Another interesting fact is that a Special Licence could be issued for places other than churches and chapels, and so there are death bed marriages, marriages in hospital, etc.
Bonds were discontinued in 1823 but Allegations were still kept. An Allegation was a simple request for a marriage without Banns and it resulted in a Special Licence.
There were several reasons why a couple chose to seek a Licence rather than have the Banns read. I have now found four in my family and the reason given in two of them was that the bride was under the age of consent, and her father appeared on the Allegation swearing on oath that the marriage had his consent. I can see no reason for the third but the fourth one is interesting. The couple were not only outside their parish, they were also outside their diocese and they had to apply to the Archbishop of Canterbury, Primate of All England, for permission to marry. Not only did he give them permission but he cut the required residence to 15 days.
During the Middle Ages the church forbade marriage during the seasons of Advent, Lent and Rogationtide. Of these three, Lent continued to be a closed season until well into this century and so people used the facility of a Licence for a quick marriage at the beginning and end of Lent. The high number of weddings on Easter Saturday was not just to do with taxation.
Marrying by licence was popular amongst the wealthy – a bit of a status symbol. Two registers I have seen for 1727 quote 2/6 for a marriage by licence, as opposed to 1/- for a marriage by Banns. Some people also thought it undignified to invite objections to the marriage.
My family was not wealthy. The lines involved in this were tenant farmers, which is evidence that people of modest incomes understood what was available to them and were not afraid to avail themselves of this facility for a swift marriage. There is no evidence that any of the brides was in a delicate condition! Marriage Allegations and Bonds are to be found within the Diocesan Record Offices. The information in them supplements what is in the Parish Registers. In my experience, their practical value was minimal; it only confirmed what I already knew. I found no evidence of family disputes, class differences, dowries, etc. The actual Licence itself is uninteresting. They are interesting to read however, and they do put a little more flesh on the bones of family history.
LANGSTROTHDALE FAMILIES ROUND THE WORLD
by Rev. H. Isherwood
(Vicar of Hubberholme)
First published in Dalesman, June 1958, and printed by kind permission of the editor.
The Yorkshire Dales have incredible links with life overseas. One evidence of that is the fascinating stream of letters from overseas to the Dalesman. There are other aspects. It must be nine years since a witty but observant member of the present Hubberholme Vicarage family coined the significant phrase "Come to Hubberholme and see the world!"
This arose immediately out of an inspection of the visitors' book at church. In that, within a single week, one might have the signatures of visitors from as far apart as Helsinki and Oklahoma (though not the original Annie of the gun!) As things are, this is to be expected at the much-visited churches of Yorkshire, such as Adel, York Minster, Lastingham, Bolton Abbey, Hubberholme and others.
Contact with the literary and B.B.C. worlds readily produces such names as Wilfred PICKLES, Freddy GRISEWOOD, Colin WILLS, Olive SHAPLEY and A.L. JUKES. But it is not a one-way process. While I was on the air with Colin Wills I was, not altogether surprisingly, heard by my son, then a staff-captain in Egypt. More impressively, I was also heard by my churchwarden FALSHAW's son, also a serviceman, and quite involuntarily, in Hong Kong.
Behind these contemporary incidents are the historical stories suggested by Mr. Edmund COOPERin a recent article in the Dalesman, and doubtless true of all the Dales. These impressive stories have yet to be searched and set forth in detail.
Of ancient Langstrothdale, there are many, and pointers can be given. Perhaps one of the earliest and certainly one of the most prolific families of Upper Wharfedale, now spread over the North of England, would be the TENNANTs. Of them it may be said briefly that not much history of Wharfedale in the last 500 years, and probably nothing violent from Flodden to 1914, occurred without a Tennant in the offing. It is interesting, but not particularly surprising, that the family was with Florence Nightingale in Crimea. A family with a similarly long but quieter record is that of the FALSHAWs. Students of history know that the yeoman families have done most things in the activities of church and state. The Falshaws produced Sir James, a successful Leeds and overseas engineer and Lord Provost of Edinburgh. They plod on quietly in Langstrothdale with public services as versatile as churchwarden and folk-dance preserver. In justice to the Tennants it must be admitted that they threw up the occasional, and presumably peaceful, parson.
One could write similarly of the JACQUESand a number of other families preserving live links or still here. It was pleasant to trace a family called MASON, resident at Raisgill and Yockenthwaite for over 200 years. The end of that family story rests at present with some ladies at Harrogate and another who is a personal friend. A notable family, now departed, was called SLINGER. They can be traced between 1400 and the early 1800s.
Langstrothdale does not appear to have been notably directed by the Big House. The PERCYs, the CLIFFORDs and the CAVENDISHes were more or less distant, and the discernible effects of local squires are later. In the fifteenth century Poll Taxes almost everyone in Langstrothdale paid the fourpence demanded of the agricultural worker. (In passing, the collective tax was as much as Keighley and other places). The parish registers support a picture of sturdy local independence, by phlegmatically recording family events in a consistent style. But, eventually, the Slingers (and that family only) achieved the occasional "Mr". The inference is that they emerged into some eminence in Buckden. Certainly they had a local parish clerk, an occasional clergyman elsewhere, and university education became part of the family tradition. They departed via Settle, the cathedral close of Salisbury and the imperial court of St. Petersburg to Naples, where the last known Slinger (presumably Italianised) was recently interested in the family story by enquiry via the Provost of Wakefield Cathedral.
But perhaps the most exciting story is that of the family that took its name from the dale. The LANGSTROTHERs, later LANGSTROTHs, would be descendants of the persisting Norse stock of the upper dale. On first "going abroad" they would need an identity, and de Langstrother is not unknown in English history on fugitive lines. There was one such as governor of Cyprus in Crusader times. A knight of that name also fell in a battle years later. There is further a most intriguing, if not too respectable, episode in Chaucer that seems to tie up with Langstrother in more ways than one. These references, however, require establishing by experts.
What can be certified here is the end of the Langstroths in Langstrothdale. Alice died in 1690, and her husband, Christopher, of Yockenthwaite, in 1707. Their remains rest in Hubberholme churchyard. Their son, Bartholomew, moved to his relatives at Horton-in-Ribblesdale. He came under the influence of the Society of Friends, which was active in Craven about that time. Anyway, about 1698, he was commended by them, in quaint but worthy terms, to Quakers in Pennsylvania and departed thither in William Penn's second expedition. The family continued at Horton, lingered for a while in Littondale and the hill country of Malham and Tatham Fells (they were incorrigible hillmen) and remains happily to this day as near as Gargrave. A pleasant feature is that the Christian name of Christopher persists on both sides of the Atlantic. The sundial, once the ancient churchyard cross of Hubberholme, has recently been restored in memory of all departed members of this notable Craven family deriving from Langstrothdale.
CRAVEN MEN AT FLODDEN FIELD – 1513
by Wyn Chalker
Craven Men at the Battle of Flodden Fieldwas compiled by A. Makinson in 1958 and taken from the Battle Roll at Bolton Abbey,
in the possession of His Grace the Duke of Devonshire.
I have extracted names from Wharfedale parishes and contiguous parishes.
Flodden is a hill near Branxton in Northumberland. In 1513, James IV of Scotland seized the opportunity to invade England. while his brother-in-law, Henry VIII, was leading an English army fighting in Flanders. With an army of 30,000 men, James crossed the border and quickly seized the castles of Wark, Norham and Etal. English contingents were hurriedly gathered together by knights of the realm and an army of 26,000 was mustered. The carnage lasted about two hours and left 9,000 Scots and 4,000 English dead in the field. King James, who seems to have made the fatal mistake of leaving his high ground and leading the charge downhill into the mêlée, was killed. One account says that the Scots' principal weapons, 18-foot long Swiss pikes, were not as effective as the 8-foot long bills, (billhooks or halberds), used by the English. The English longbowmen were also effective. The word "harness", in those days, meant armour for foot soldiers or mounted men. It could be chain mail but sometimes the "harness" was no more than a leather coat.
There is an English Heritage Battle of Flodden Exhibition at Etal Castle.
[This is one version of the story – other versions may vary in detail.]
ADYNGHAM
able, horse and harnish'd: William WADE,
archers:Henry MAN, Richard CRYER, Richard RILEY, Thomas STOTTE, Christopher SWYER, Thomas BARKER, John GREENE
bille: Richard LOFTHOUSE
The above horsed and harnished at the town's cost
APPLETREEWICK
bowe, able, horse & harnish'd:Henry YOUNG
bowe: William WAT, Thomas PRESTON, Robert ELSON, Cuthbt. WYNTERB'N
bille: William HOG
bille & bowe: Henry YOUNG
ARNECLIFFE
able, horse and harnished: John KNOLLE,
bow: Oliver KNOLLE, William FIRTH, Richard ATKINSON, John WILSON, John ATKINSON
bille:Robert TYLSON, Richard CLEBENGER, Peter PRASS, John CARLYLL
BEAMSLEY
bowe, able, horse & harnish'd:John HOLMES, Thos. KENDAL
bowe: Thos. FRANKLAND
bille:Richard SHYERS
EMBSAY & ESTBY
bow, able, horse & harnished:Thomas ALCOCK
bowe:Thomas CROFT, John PETY
bille:William CATE, of Estby
FLASBY
man, hors'd & harnish'd:
William HESSFELL'D, Stephen PROCTOR, Rauffe PROCTOR, Robt. SNELLE
bille:Richard LISTER, William BLACKBORNE. Rodger PROCTOR, Lyonel WHITFIELD
GERSYNTON
a bow, able, horse and harnish'd: John CLERK
bowe: John WILKINSON, George KNOLLE, Lennard HIBOTSON
GLOSEBORNE
bowe, able, horse & harnish'd:William MAYNCOND
bowe: Robert SUMMERSCALE
HALTON
a bowe, able, horse & harnish'd: Robert BURLEY
bowe: Francis SHYERS, William WEST
LANGSTROTHDALE
bowe, able, horse and harnished: Richard TENANT
bowe:Geoffery TENANT, John TENANT, Thomas SLINGER, Lenard JAKE, William TENANT, Rauffe TENANT, James PARKER, William LANGSTROTH, Geffery WALKER, Thomas TENANT, John FALDSHAW, Xrofer HOGG, Richard SMYTH, James CASE
bille: Adam WILKYNSON, Xrofer SLYNG
LITTONDALE
able, horse and harnished: John KNOLLE,
bille:Abraham KNOLLE, Adam LANGSTROTH, James KNOLLE, Rauffe KNOLLE, Matthew KNOLLE, William THORNETON, Jak ELLISON, Robert STONEFORD, Henry BULLOK, Jakob TENANT, John COWARD
bowe:Richard FRANKLIN, Richard FAWCYTT, John FRANKLIN, Jack TYLSON, Robert FRANKLIN, Henry FRANKLYN, John WALKER, Rodger TENANT, Thomas WEDERHEIDE, Henry TYLSON
SUTTON
bow, able, horse & harnished: John BLAKAY, John PARKINSON
THORLEBY
bill, able, horse and harnish'd: Wm. BROCHDEN
bille:Robert BURGESS, Thomas BACOCK
YEADON CRICKET CLUB I found this photo of Harold Harrison at York FH Fair last year. This man built our house in Football, Yeadon. Harold Harrison was a member of Yeadon Cricket Club. He was a
great bowler and is pictured here with the Cricket Trophy. In World War I he lost an eye. This article was written by Fred Cooper, who was sexton at Yeadon cemetery and my uncle-in-law. His unpublished material was bequeathed to the old Aireborough District Council. He left school at 14 and his talks were delivered in the local accent. His information came from the original records.
Peter Davey
YEADON CRICKET CLUB
by Fred Cooper
Yeadon Cricket Clubwas formed in 1859 and came into being at a meeting held in the Victoria Hotel, which was at the junction of Sandy Way and The Green. Now (1961) it is a newsagent's shop. At this meeting, which was attended by the members of the two clubs then in existence, the Top Enders and the Bottom Enders, it was decided to amalgamate under the name Yeadon United. After a year or two, "United" was dropped and the club has since been known by the name Yeadon C.C.
The following were the most prominent of the founders and, from them, the first committee of six persons was elected:- Edward CLAUGHTON, Nat. CLAUGHTON, J.MURGATROYD, Joseph MURGATROYD, J. BLACKBURN, H.KITSON(stumper), A.HUDSON, T.TILLOTSON, J. SMITH, E.B.RAWLINSON, D.MARSHALL, B.DAWSON, Thompson MARSHALLand George RAWNSLEY. Most of them were the club's first players. The club's affairs were conducted by the chairman, appointed at the commencement of the committee meeting. In 1871 it was decided to have a President and Edward Claughton was the club's first President. It used to be said that it was a toss up between Yeadon and Lascelles Hall (Huddersfield), which team had turned out the most professional cricketers.
The following Yeadon men played for Yorkshire:- Merrit PRESTON, Amos MARSHALL, Samuel FLAXINGTON, Edmund PEATE, Joshua HUDSON, J.H.PENNYFred SMITH, James YEADON, Matthew MYERS, Hubert MYERS, J.SMITH(known as Soldier Johnny), E.B.RAWLINSON, Wm. TOWLER, Harold HARRISON, J.T.BELL, W.B.STOTTand D.B.CLOSE, who was born at Rawdon but was living and playing with Yeadon, when picked to play with Yorks.
TedPEATEwas the first player to receive a grant from the county club. He was awarded £200 in 1900. He first played for Yorkshire in 1879 and, in the eight years that followed, he took 819 wickets at an average of 12.55. He twice performed the "hat trick" and three times took 100 wickets in a season. In 1883 he took 8 wickets for 5 runs against surrey. Four times he bowled unchanged in a match. In 1880 he took 8 for 24 against Lancashire. He played in nine test matches for England, taking 31 wickets at an average of 22 runs. He was a slow left arm bowler, never an outstanding batsman. In his 169 innings he scored 1,845 runs. In 1881/2 he toured America and Australia with Shaw's team.
Merrit PRESTONfirst played for Yorkshire in 1883, when he was only 19 years of age. He was only 26 when he died. For Yorkshire he took 228 wickets at an average of 16.98. In 150 completed innings he scored 2,392 runs. In 1887 he took 5 for 10 against Notts. He also toured Australia. He figured in a tragedy on the Swan Field on Yeadon Feast Wednesday, 1883, when he bowled a ball against Albert LUTY, which struck Luty on the temple and he died as a result. LUTY had only been married eight days when the accident happened.
Matthew MYERS played five years with Yorkshire. In 38 innings he scored 586 runs.
Herbert MYERSscored 4,450 runs for Yorkshire and took 282 wickets at an average 25.15. After receiving a grant of £250 from the county, he emigrated to Tasmania. He played for them against England.
J.T.BELLalso played for Glamorgan. He was a damned fool. If he had acted right in his head, he could have been one of the finest batsmen ever.
For many years "Bill" TOWLERwas a "pro" in the Lancashire League with Rawtenstall. Although a teetotaller, he kept a pub.
Many more Yeadoners went as "pros" to other cubs; amongst them Isaiah BROWN, Edward HANSON, Fred SLATER, Fred BOOTH, JohnGOODERand Dennis BATESON.
Fred SMITHhad two brothers, Harry and Herman, who were both good batsmen. Herman Booth, if he had not been killed in the 1914 war, was another good man. Harold HARRISON also would have been an outstanding left arm bowler, if he had not lost an eye in the same war. He was, for a few seasons, a "pro" with Ayr in Scotland, so also was Fred BOOTH, Fred SLATER "pro'ed" in the Lancashire League. PHOTO of Harold Harrison
A "Captain Cuttle" commented, in 1882, that Yeadon cricket was celebrated all over Yorkshire. In 1932 a dance was held in the Town Hall to mark the centenary of organised cricket in Yeadon. In a letter to the Wharfedale & Airedale Observer, a writer November 24th1882 bemoans the fact that the club, which boasts of sending out a dozen "pros" each season will, in the 1883 season, have a man named PICKLESfrom Otley to play. "Where is our rising talent?" he asks. I wonder what he would say today, when only about three Yeadoners play in the 1stteam.
W.G.GRACE (1848-1915)
[Refusing to leave the crease after being bowled first ball in front of a large crowd]
They came to see me bat, not to see you bowl.
A SHORT HISTORY OF BEN RHYDDING METHODIST CHURCH
E. Jean Alderman writes:
The following article was found among the personal effects of my aunt, Elizabeth May Vost (1905-1992). I do not know who wrote the article but I believe it must have been written several decades ago by a member of the church.
My aunt, Elizabeth May Vost (1905-1992) was born in Lymm, Cheshire and, in 1934, she went to live in Ilkley, on Leeds Road, with my parents, my brother and myself. She opened a small drapery shop that survived until the end of the Second World War and she established a "Bed & Breakfast" business until the end of the 70s. She was a committed member of Ben Rhydding Methodist Church for over forty years and, for much of that time, was a Sunday School Superintendent for the Junior Church. She came to live with me here in Eaglescliffe, Cleveland, in 1983 and died in January 1992, aged 86.
Christian worship as a community here in Ben Rhyddingbegan in Wheatley Old Hall. (That's the old house down by the station). It was then a farmhouse and the farmlands consisted of the area on which the whole of the centre of Ben Rhydding property has since been built.
My grannie lives in Longcroft Road, which was the long croft or field of the farm. The people who owned all this land were Mr. BOLLINGand Mr. MARGERISON. That's why we have Bolling Road and Margerison Road.
A hundred years ago this wasn't Ben Rhydding. It was a small hamlet called Wheatley – a few farmhouses and farm-workers' cottages. There are still a few left at the end of Longcroft and the Dower house, where Captain SERGEANT lives. My Daddy used to live in the white house at the end of Longcroft and one or two houses like Wharfedale Grange (which is now Clevedon House School at the top of The Drive. So now we have Wheatley Lane and Wheatley Avenue. We became Ben Rhydding after that great Hydro, a kind of hospital, was built up there and Dr. McLEODarranged for a railway station to be built at Wheatley.
The exact date of the beginning of Christian worship in the village is not known. A Circuit plan, dated 1821, in Wesley Place Chapel, Addingham, shows that three services were held each Sunday in Addingham, two services at Langbar and one service every other Sunday at Ilkley and Addingham Moorside. There is no mention of Wheatley on this plan.
In 1852, John Berry MAWSONcame to live at Wheatley Old Hall and to farm the surrounding lands. His daughter, Mary Ann, was born at this house in that year. She was Mr. Harry EAGLE's mother. From the time he came to live there, services were held regularly in the farm kitchen. In 1875, Miss Mawson married Mr. Lewis Eagle and, when her mother died, she came back to the farm to keep house for her father and two brothers. Her two eldest sons spent their childhood at the Old Hall. One of them, who had his Golden Wedding a week ago, tells this story:
"When I was a very small boy, the Rev. W.O. SIMPSON, a well-known Indian missionary and the Minister at Ilkley, came to take a Sunday service in our farm kitchen. He had walked through the fields from Ilkley in the rain and he took off his boots and preached standing on the hearthrug in his stockings, while his boots and coat were drying out."
The village was beginning to grow and the farm kitchen was no longer big enough to hold the growing congregation, which consisted of both Methodists and members of other churches. About this time St. Margaret's Church was being built. During the building, a temporary church was used and, when St. Margaret's was opened, the Methodists bought this temporary building and put it up at the foot of the Drive, where it was used both for public worship and as Sunday School.
Mr. Eagle's eldest daughter, born at the Old Hall, was the first baby christened in this church in 1881. A Bible was given to her on that occasion. In due course a retired minister, the Rev. John Wesley SILCOX, came to live in the Old Hall – now an ordinary house, not a farm, and it was mainly through his enthusiasm and inspiration that the funds were raised to build the present beautiful stone church
UPPER WHARFEDALE METHODIST RECORDS
by Stanley Merridew
In previous articles [issues 27-30]concerning the history of Skyreholme, I mentioned that the registers for Howgill Methodist Chapel appeared to be missing. However, thanks to Muriel Raw, I have had the opportunity to view them. Muriel discovered them deposited at Bradford Archives, along with the missing Kettlewell Methodist Chapel records,. I visited the archives and found that the deposit includes many very useful records for our area.
Why they should be deposited at Bradford is something of a mystery in itself. Northallerton would, one suspects, have been the natural home. They are grouped with the Grassington PrimitiveMethodist Circuit Records, so these are the documents you would need to request on a visit to the archives.
Probably the most valuable document for family historians is the Baptism Register1847 – 1933. This is one volume and contains entries from chapels in Grassington, Linton, Burnsall, Kettlewell, Giggleswick, Sheldon, Hebden and Howgill. The entries include child's given names, date of baptism – and often the birthdate too, parents' names, mother's maiden name (sometimes) and abode. This is something of a novelty in my experience, to see as much detail recorded in Methodist records.
Similar information is found in the Grassington WesleyanMethodist Baptism Register, in two volumes covering the period 1843 – 1957. Bear in mind for most of this time the PrimitiveMethodists and Wesleyanswere separate movements, coming together around 1930 as the Central Methodist Church.
The ministers it appears were quite precise, for example:-
Baptised 13 May 1855 Margaret CRAIG age 7 weeks & one day,
daughter of Joseph & Jane Craig, miner of Kettlewell.
There are several other records, mainly relating to the running of the chapels. If you find your families have been involved in the chapels it is well worth looking further. Methodists invariably kept extensive records of committee meetings, records relating to the church/chapel fabric, building funds etc. Typical of this was the record of Pew Rents I came across in the Grassington Wesleyan Methodist Circuit . In the 1850s the rental amounts paid annually varied between 6d to 1/6d (two & a half pence to seven & a half pence), naturally depending upon position in the chapel. The pews must have been quite large as in 1850/1851. I found pew 34 shared between James WISEMAN, William SIMPSON, John BLAKE, Miss TOWN& Christopher HAMER! They all paid 10d.
Another gem worth seeing is the Kettlewell Wesleyan Methodist Sunday School Class Book. This runs from 1865 to 1894 and records teachers and pupils along with the classes they attended. It must have been quite an operation as in the year shown as 1865/6 there were 22 teachers. It seems the Hancock and Wiseman families were heavily involved, both families supplied four teachers: Thomas, Nanny, another Thomas and Nanny Catherine HANCOCK; Rachel, Henry, Jonathon and Richard WISEMAN. Two teachers, John GILLand John RAWare shown in 1865/6 and are teaching at the chapel in 1883.
The children are shown in their classes, bible, testament, alphabet, spelling. Girls and boys in separate groups of course. At this early period, prior to compulsory education, the chapels were the only source of learning in many small towns and villages. The Wiseman clan was obviously fairly prolific, providing not only teachers but many of the children as well. The boys' Bible Class in 1865/6 had ten students, three of whom were called Wiseman. Likewise in the testament class, of the fourteen pupils six were named Wiseman: Christopher, George, Henry, John, Richard & Robert.
It is rare to find no evidence of attendance at a Methodist Church within a family. Quite often family historians, on finding entries in the parish church, do not bother searching through Methodist records. However one needs to remember part of their success was due to their accessibility particularly in the early period. Many congregations started in private houses and chapels were built in some fairly remote places, whereas parish churches were often miles from part of their parish. Families may have used the parish church for the main events in their lives: baptism, marriage and burial but possibly the children attended the Sunday School or other activities.
I am delighted we solved the mystery of the missing records on this occasion. Of course there are many other chapels that have disappeared, along with their records such as Hetton and Beamsley. Hopefully someone will enlighten me again!
COMING OF AGE
by Stanley Merridew
It seems incredible to methat the Wharfedale Family History Group is celebrating its twenty-first birthday. How did it all begin? How have we survived the years and the test of time? What have we achieved?
Well, the first question is easy, as I was there at the start. In the autumn of 1979 I ran my first family history class at Ilkley College. The students included Laurie Cordingley, Peter Cockerill and Ken and Sheila Johnson. This was followed by another class in early 1980 at Menston, which Kate Wilde attended. After these two courses we had a get-together at Laurie's home in Nesfield in April of that year. We decided to continue to meet on a monthly basis and held our first meeting at Ilkley College in May. Other early members included Sally Brown (Ken and Sheila's daughter), Joan Servino who died in 1999 and the late Ray Hudson. Jack Byett, Joan Emery, Ray Gill, Fred Lister, Mavis Marshall and Betty Shimwell joined us shortly afterwards. All have made various contributions over the years.
Our first project was to record Addingham St Peter memorial inscriptions. An ambitious start, as this is probably still the largest churchyard we have recorded. From the start we showed a readiness to record MIs. Somehow it became a social event, a couple of hours recording, then off to the nearest pub. Some of those early sessions, led by Jill Hicks and Georgina Murray, were well documented by Roger Hick's contributions to our journal in his own quirky style. Due to our eagerness to record every stone in the dale we have now run out of stones!
Our committee meetings were held in Ken and Sheila Johnson's dining room for many years. It housed most of our records, the microfiche readers, printers and the photocopier. Several of the early editions of the journal were printed and collated on their dining room table. Both served on our committee (they had to!) for some time. Sheila was treasurer for many years, followed by Ray Rowley, who combined the jobs of treasurer and membership secretary for a similar length of time. Our decision to purchase the IGI and the 1881 census index for the whole country was ambitious for a group of our size. On a few occasions our funds were nearly depleted. We would joke in committee meetings of passing the hat to help our treasurer sleep at night. This was particularly evident in Cathy Kane's early days in the post. She must have had misgivings as to what she had undertaken!
Our affiliation to Ilkley College gave us good accommodation at a very low rent. However, by 1993 we felt the trek up the hill was costing us membership and the impending closure forced us to move onto Burley Parish Lounge. However it soon became apparent that the space could not accommodate our increasing numbers and David Allen found us our current home at Burley Salem Hall in 1994.
Membership grew slowly from our inception until 1991, when we joined the Federation of Family History Societies (FFHS) which gave us a platform to enlarge our activities. Our original area of interest was the middle section of the dale from Addingham to Harewood. Then we took on the upper dale to give us greater potential for projects and membership. Our first Open Day was at Grassington Town Hall in August 1993 and this brought about the creation of a branch at Grassington from October of that year.
Our early projects included transcribing the 1851 census returns. This was largely done by Kate Wilde, Ray Gill and myself, with Joan Servino completing Ilkley and Joan Emery transcribing a large section of Otley. In more recent times Gerald Lawson has taken on the task of computer input and, with a number of helpers, we have published a tremendous amount of census material. Brian Clayton and John Hartley have produced most of our MI and PR booklets. Many large family history societies are envious of our publishing prowess with almost one hundred volumes available. This has helped our financial position and has proved invaluable for distant members, who have always figured high in our priorities for assistance. In recent times we moved into a different sphere of publishing with the appearance of an autobiography, Memories of Upper Wharfedale, by Thomas Metcalfe, and the updated reprint of Beckermonds.Dare I say that, without our intervention, neither booklet would have reached the bookshelves. Both offer present and future generations an insight into the ways of a world that has disappeared.
What of the future? Well, as a hobby, the interest in family history still appears unabated. Our membership continues to grow year on year. The internet helps, as communication is easier and many of our new members find us in this way. The excellent quarterly journal Wyn Chalker produces gives every member another means of access. The area we cover, which once appeared huge, seems to have shrunk in terms of projects left to do and we are beginning to look westwards at areas of Yorkshire not seriously covered by other societies. This expansion would bring about another influx of members and more publications. It is impossible to mention the dozens of people who have played their part in the continuation of the group, so apologies to those I have omitted but thank you for your contribution.
The original intention of starting the group was to have a forum for like-minded individuals to get together on a regular basis and to help each other with our research. We started this way and have continued over the years, members have come and gone, some have stayed but somehow those basic ideals have remained.
Past Chairmen & Notable dates:
April 1980 Foundation of WFHG 1993 First Open Day at Grassington
1980-1981 Stanley Merridew May 1989-1993 Jill Hicks
1980 First meeting at Ilkley College 1993 Start of Grassington branch
1981-1984 Richard Burton 1993-1998 David Allen
1990 Joined FFHS 1998- John Hartley
1989 Wallace Murray
JAMES IRVING, A GAMEKEEPER WHO DIED YOUNG.
by Kathleen Stevenson
My great-grandfather, James IRVING, was a gamekeeper. I wonder why? Most of his family were connected with the weaving trade (in fact his father was the overseer at Low Mill, Grassington). My grandmother had a full-length portrait of her father (a large oil painting) in her living room, and I remember he wore gaiters and was standing with a hand on his gun and a dog at his feet. Grandma said he had twinkling brown eyes and was always lively and happy and full of fun. How sad that he died so young. James was only 28 when he died of gunshot wounds. I was told he was out shooting duck for Christmas. There was snow on the ground and he was climbing a stile when his gun went off. He was carried to Low Mill, and, while he lay there dying, the mill wheel was stopped and people were out of work.
There was a report in the Craven Heraldof Saturday 21st December 1878:
GRASSINGTON– Gun accident – On the 19th instant JAMES IRVING was seriously wounded by the discharge of a double-barrelled gun, and the contents of one of the barrels are still lodged in his thigh. It is thought that the accident would prove fatal, but Dr. McPHERSON, who is attending him, has better hopes, and thinks with care he will be brought round. There is one and a half ounces of duck shot embedded in the flesh. He was in search of a wild duck and was carrying the gun in his pocket when the accident happened.
But then in the Craven Herald of Saturday 11th January 1879:-
FATAL RESULT OF AN ACCIDENT. Grassington. JAMES IRVING, who received a serious gun wound on the 19th December last, died from its melancholy effects on the 4th instant. His sufferings at the commencement were most intense, and his agony was increased with lockjaw. He leaves a wife and five very young children to mourn his loss, who will have to depend on charitable aid for their living for some time, we are afraid. His age was 31 years, just in the prime of life. The father of the Deceased man died at the fine old age of 96 only a few years since.
[James was, in fact, 28 years old when he died. Born April 1850, bap. 28 July 1850.]
The reason for the mill wheel being stopped, according to family stories, was that the noise of the wheel would have disturbed James as he lay there dying. But the real reason was apparent when I read another newspaper item of 21 Dec, 1878 reporting that Upper Wharfedale was experiencing the severest weather witnessed for a long time: severe storms, blinding snow, severe frost and the River Wharfe frozen over in many places. The dams at Linton Mill were frozen and there was skating on the river
On 27 April 1872 James had married Ann BRENKLEYat Linton Parish Church. They had five children, two of whom (my grandmother Mary and a younger sister) were brought up in Linton by their Aunt after their father died. Their young mother, Ann, was taught to weave by her father-in-law at Low Mill and then moved with her other children to Colne.
James Irving's ancestors came from Askrigg. There was John URWINof Grange, Askrigg, whose son (John Urwin the younger) was baptised 15 Jan 1682 according to Askrigg Parish Registers. James Irving (son of John the younger) was baptised 23 Jan 1726 (Askrigg Parish Register). He lived first at Grange and then at Skelgill. The son of this James Irving was William Irving (sometimes written as URWINor ORWEN) who was baptised 27 Feb 1762, and who seems to have started the migration firstly to Gargrave and then to Grassington and Linton.
Why would William have left the Askrigg area? William Irving appeared in the 1841 census at Low Mill, Grassington, as head of the household, aged 82, Annuitant. His son (another James) aged 46 was the Mill Overlooker and remained so until he became an "Annuitant" , according to the 1871 census, where his age was given as 88 although he was actually 76. He seemed to gain a few years in each ten-year period.
An Annuitant, according to the OED, is a person who receives an annuity which is "a sum payable in respect of a particular year; yearly grant; investment of money entitling investor to series of equal annual sums." I would like to know more.
According to the 1851 census, James the Mill Overlooker, aged 59 (sic), was born at Askrigg and had a wife Ann, a daughter Isabella and two sons, John and James. James Irving was then 11 months old and was born in Grassington. He continued to live with his parents at Low Mill House until he married Ann Brenkley (Ann was a popular name) and moved to a "tied" cottage in Grassington where his children would have been born. I wonder where exactly his tied cottage would have been, and for which estate would he have been a gamekeeper? I wish I had more local knowledge.
It would be good to find out more about James-the-gamekeeper and life in and around Grassington in those early days. A little difficult from this distance. Can anyone help with suggestions?
Can anyone shed more light on the term "annuitant", which appears so often in the censuses?
BEFORE RADIO AND T.V.
by J. Peter Davey
The Preface to the Methodist Hymn Bookof 1933 commences with the words, "Methodism was born in song."
My grandmother, Laura Elizabeth HARDAKER, lived between 1874 and 1954, a period during which music in the Methodist Church at Yeadon was at its peak. She sang soprano as a young lady in the choir at Queen Street United Methodist Free Church, where her father, Solomon HANCOCKwas a Class Leader and leading light.
At Leeds Archives at Sheepscar (ref. A C 10/4), I found a Minute Book of the Leaders of the Wesleyan Methodist Reform Society, Yeadonand in it an entry dated 12thNovember 1888:
"Proposed Bro. N. TEALE, seconded Bro. HANCOCK, that we have a Service of Song on Nov. 25thin the Afternoon for the benefit of the Choir."
This perhaps seems a bit topsy-turvy, as the purpose of any church choir is surely to enhance the singing, to the benefit of the general worship, with introits, anthems and descants.
Queen Street Chapel was a foursquare building with a gallery all the way round. The pulpit was large enough to hold six people and a huge organ towered above it. In idle moments, if the screening was not in place, I could persuade myself that the organist was sitting on the preacher's head! Immediately to the organist's left were the seats of the tenors and sopranos and the contraltos and bass sat on his right. The ladies occupied the more prominent seats facing the congregation and, to them, it was of the utmost importance to be beautifully turned out and the display of hats was remarkable!
For forty years or so, prior to the Second World War, the organist and choirmaster was John WORMALD, of whom it was said that "he could make that organ talk". His memorial above the choir pews contained a quotation from Sullivan's The Lost Chord: "May be that only in Heaven we shall hear that grand Amen."
John Wormald lived in Town Street, alias T'Steep, where he gave music lessons in a room over the family grocer's shop. During his time the choir was well known for its performance of oratorio and cantatas such as Messiah, Elijah,The Crucifixion and The Creation. On such occasions the choir members were augmented ("helped" was the word used) by choir members from other local churches and principal soloists were engaged. These included the likes of Isobel Baillie, Heddle Nash, Kathleen Ferrier and the trumpeter, John PALEYof Bradford (1875-1955), who subsequently became world famous as recording stars.
At this time, and following her marriage, Grandma Hardaker had moved to New Scarborough, a good mile from the centre of Yeadon and, for convenience, she attended the Park View Wesleyan Chapel, which served this recent development of textile workers' houses. Here she continued to enjoy her singing, as is seen in a photograph of her taken on the Sunday School steps, dressed for a part in The Mikado. However, until the end of her life, she always liked to attend special musical services and concerts at Queen Street.
In pre-radio days it was necessary to take your pew an hour before the start or you would be unable to get into the building. The pews were supplemented with Sunday School forms and even planks were brought into use wherever a support might be found, with no concern for public safety.
Although, on major occasions, professional singers were engaged, there was considerable talent amongst the ordinary members and their efforts were very much enjoyed on both religious and secular occasions. In the mid-twentieth century I recall Lena SHIRES(Mrs. Leonard WRIGHT), soprano, Alfred LUPTON, tenor, and his cousin Walter P.LUPTON, bass, and Miss Sally BLAMIRES, contralto, as being amongst the main soloists among the choir members.
Choir practice was on Wednesday evening, after which my father, who sang bass, but never solo, would walk up the road to have a "gill" with Walter Lupton at the White Swan. The Clothiers' Arms was virtually on the chapel doorstep. What would the temperance people have thought?
After Sunday evening service, various members of the choir would be invited to the home of Mrs. Sarah Winifred COOPERfor an informal sing round the piano. Mrs. Cooper, although not a regular choir member, founded a junior choir in the 1940s, which she ran for forty years.
On occasion, particularly before the Second World War, the choir would visit various institutions to give concerts to residents and Mrs. Cooper recalled one such visit to Leeds, where Sally BLAMIRES, who had a wonderfully rich contralto voice, chose to sing a popular song of those times, "Bless This House, O Lord We Pray."
"Bless this House" is not normally known as a comedy item but before Sally had finished both the entertainers and the entertained were in tears of laughter. The venue was Armley Gaol! For the benefit of those who are not familiar with the song, the next line is "Make it safe by Night and Day." Other lines ask that the doors may be ever open (to Joy and Love) and call for a blessing on the walls "so firm and stout"!
There's no place like home
SILVESTER PETYT AND HIS CHARITY.
Sylvester Petyt was born at Storithsand baptised at Bolton Abbey on Jan. 8th1639. His father was William Petyt, a yeoman farmer, whose family had been established in the Bolton Abbey area since the fifteenth century. He was the youngest of a family of five daughters and three sons. Silvester and his two older brothers, William and Henry, were educated at Ermysted's Grammar School at Skipton. All three brothers eventually moved to London, where William and Silvester pursued careers in the legal profession. William studied law at Barnard's Inn and later at Christ's College, Cambridge, and was called to the Bar at the Inner Temple in 1670. He achieved fame as a lawyer & antiquarian & was appointed Keeper of the Records at the Tower of London in 1689.
Silvester also studied law at Barnard's Inn and remained attached to the Society for the rest of his life. He was admitted in June 1666, made an Ancient of the Society in May 1685 and appointed Principal in July 1701. In his early days he was appointed one of the clerks in the Court of Common Pleas but apart from that did not take much part in public affairs. He did, however, build up a very successful legal and money lending business. So successful that when he died in 1719 he left in excess of £30,000.
Silvester, like his brother William, died unmarried and like William he remembered his birthplace when he drew up his will. His will was very complicated, extended to thirty pages and took four years to prove. He left about £2,500 and his personal possessions to his near relatives, the remainder to be used for charitable purposes. To the Vicar and Churchwardens of Skipton he left £140 to clothe and put out as apprentices twenty poor children. He left a similar amount to the Churchwardens and Overseers of the Poor of Bolton Abbey and to the Churchwardens of St. Andrew, Holborn, the parish where he lived in London. He left money to buy books for Skipton Grammar School, money to maintain the Library he had established in the Skipton Parish Church and funds to provide a school at Storiths. After all these and other small bequests had been provided for Silvester stipulated that the remainder of the money should be invested in land and the profits used for: procuring poor children born and to be born within the Parish of Skipton and within the said Towns and Villages of Bolton Brigg, Beamsley, Storiths, Hazlewood and Deerstones, or some of them, to read and write and to clothe and put out such of them Apprentices as they or the greater part of them for the time being shall from time to time think fit. He then went on to say: And if any of my relations and Kindred be Objects of Charity, I hope the Trustees will consider them in the distribution of this Charity.
The Trustees were all London-based people who took very little interest in what happened in Yorkshire. True, they met every year, ate an expensive dinner provided by the terms of the will but did little else. No land was ever purchased and what could have been a very valuable charity just drifted on until it was reorganised by the Charity Commissioners in 1879. The Trustees appointed an Agent in Yorkshire to deal with applications for assistance from 'poor relations' and from parents wishing to have their children placed out as apprentices. In the early days this agent was often the Steward at Skipton Castle, one of the first being Christopher Petyt the son of a cousin of Silvester Petyt. The poor relations had to provide proof of their relationship to Silvester Petyt and in the Petyt Charity Accounts for 1728 is the entry: To Mr. Cheetham for making out pedigrees and catalogues of the books the sum of £5. The following year is the entry: Paid Mr. Cheetham a year's salary for keeping the Library in Skipton Church, due 19 April 1729..£5; Paid Mr. Cheetham boys to read and write till fit to be put out apprentices: £7-10-0. The Rev. John CHEETHAMwas the Librarian and schoolmaster of the boys' school (not the Grammar School) at Skipton until his death in 1746. There was also a Charity School for Girls in Skipton where the teacher was Mrs. Mary WALLACE. The Trustees granted her a payment of £2 per year. Hopefully this was an addition to, and not the whole of, her salary. The Trustees also paid the salaries of the schoolmasters at Hazlewood and Barden.
There were also expenses to be paid in connection with the apprentices. In 1731: Paid a Bill of Expenses at Bolton Bridge, when the inhabitants of the towns within the Bolton Curacy met and assisted in putting out apprentices: £1-0-4. and: Paid another Bill at Skipton, when the Principal Inhabitants met and when the apprentices were fixed with to proper masters: £1-11-6. In 1734 the Trustees were having problems finding suitable candidates because: Paid Mr. MITTON (Vicar of Skipton) for searching the Registers of the Parish of Skipton for poor children's names to be put out apprentices: 4/-. By 1741 the expenses had risen to £5-9-0: Paid Expenses at several meetings to put out apprentices, to settle the lists and to get certificates etc. of the children's ages.
The list of apprentices is taken from an account book of the Petyt Charity 1726-1755. It lists the children by township and there are also separate lists of children said to be poor relations. In the cases of apprentices from townships not mentioned in Silvester Petyt's will, these can be assumed to be the children of poor relations. In the twenty-nine year period a total of 619 children were apprenticed, of these 76 were girls. It is noticeable that after 1738 no girls were put out as apprentices. There are 78 trades or professions listed, ranging from the expected farmer and weaver to the more unusual such as scrivener, glassmaker and mantua maker. The payment was £7 per child and was made to the master whose name appears first, followed by that of the apprentice and then the parent.
Some examples from the list:
1727 Beamsley: Thomas Hudson with Martha Hudson daughter of Matthew Hudson.
1732 Barden: Joseph Ideson, Butcher, with Samuel son of James Ward.
1738 Bolton: John Ingham, Butcher, with Jonas son of Jonas Ingham.
1746 Addingham: John Cockshott, Flaxdresser, with John the son of Isabel Spencer.
Gerald Lawson writes that Tony Petyt has given permission for this data to be kept on the WFHG laptops for the use of members. You can request details of individual surnames by post from Gerald Lawson, accompanied with the usual S.A.E. The data is also available at Angela Petyt's Internet site:
A BRIEF HISTORY OF YEADON MANOR HOUSE
by Ian Hutton
This is a building which has been very poorly documented over the years but one which was certainly demolished in about 1957, to be replaced by a red brick weaving shed for the firm of James IVES and Co. It was situated at the rear of Manor Mills and set in its own grounds, although these were not particularly extensive. The weaving shed which replaced it has now been converted and extended and operates as a Leisure Centre.
It is generally accepted that the house was originally the property of the MARSHALLfamily, which also had connections with Low Hall, Gill Lane, Yeadon, a building which is still standing. A 16thcentury assessment shows two branches of the Marshall family, described by Roy Price * (see bibliography) as "at the foot of the Steep". Another branch lived at the aforementioned Low Hall.
The Marshalls also owned land subinfeuded from Kirkstall and Esholt priories, as shown in a rental list of 1663, where the names Joseph and Thomas occur, twice each, and by 1672 they had eight houses, with a total of 14 hearths or chimneys out of the 93 counted in Yeadon. The family is represented by the names Joseph, Thomas, Samuel (twice) and Caleb in a 1711 Parish of Guiseley Tithe List. Before 1770 the land they held in Upper Yeadon had passed to a family called CLAYTONand, by 1840, the Low Hall estates had passed to the BARWICKfamily.
The Marshalls occur frequently in the town's books and elsewhere and, until the 19thcentury, they seem to have had much influence on Yeadon's development. One of their houses remained standing at the foot of Howarth Lane a hundred or so years ago. It had the inscription: "Miles and Grace ODDY."
Philemon SLATER, in his History of the Ancient Parish of Guiseley*, although describing Low Hall in some detail, does not give a description of the Manor House in his chapter on Yeadon but simply returns to a house belonging to the Marshalls, inscribed "MM 1662"
The ownership of the Manor House from the time it ceased to be occupied by the Marshalls, right up to its eventual demolition, is not at all clear, although several well known figures in the town's history are quoted as living in it at some time or other. Before mention is made of any of these, it is worth noting that the Marshalls' Upper Yeadon holdings included land known as Abbot's Garth and their principal holdings around Low Hall passed down through the female line from an Elizabeth Marshall, who married William DINSDALEof Otley in 1782, to their daughter, Julie, who, in 1814, married Richard BARWICK of Rawdon. Their descendants, who continued to live at Low Hall, often took the name Marshall as a first name.
Returning to later occupants of the Manor House, T. ILLINGWORTH* tells us that the second mill to be built in Yeadon was by a Joseph CAWTHRAY, who lived at the Manor House and diverted the beck, thus angering the local populace. (This was the mill that was known as the "Old Mill" or, more affectionately, "T'Owd Dog"). In 1860, however, Cawthray emigrated to America, thus vacating the Manor House.
Right from this time to the present, the history of the house and its occupancy is extremely patchy, to say the least, and the only other written reference to it, that I have discovered in local history works, complete with an illustration, is in one of my colleague Martin Rigg's books on Old Aireborough*, where he states that the house was never the property of the Lords of the Manor, this being Esholt Hall. He also points out that it contained a datestone of 1690 with the initials "DIM", presumably referring to one of the Marshall family. Quoting a Mr. Norman WINFIELD, Martin also mentions a lintel with "IM 1754". The house itself, however, would appear to have been of a later construction, possibly about 1860-1880, suggesting that it had been rebuilt several times.
It appears that a Mrs EMSLEYwas the last occupant and another previous occupant was Sir William BULLOCK, who then emigrated to Yeadon, Pennsylvania. The Joseph CAWTHRAY(or Cawthra) previously mentioned, succeeded his father Henry in ownership of the house. As long ago as 1780, the 4thof July to be exact, it was advertised in the Leeds Intelligencer(forerunner of the Yorkshire Post) as consisting of six large chambers on the first floor with chambers over, two large cellars, barn, stables, granaries, dovecote, garden and a shop and warehouse suitable for a wool stapler or manufacturer. It had "27 days work of land" and appreciation for it would be made through a Richard CLAYTON.
This is as far as research will take us. Even the date of the house's construction is not clear. The Marshall connection appears to have gone from Yeadon, although there may be some descendants in the locality. It is significant that Parkgate House, Guiseley, later the property of Mathew William THOMPSON was once owned by Jeremiah MARSHALL, who was instrumental in the building of the first Wesleyan Methodist Chapel in Yeadon but I do not know of any connection between this Marshall and the Yeadon family or, indeed, Yeadon Hall. So ends my account of this badly documented building.
References:
Rigg MTD: Round & About Aireborough Vol IV (M.T.D. Rigg Publications 1992
Price R.: A History of Yeadon (Maple Bowers 1980)
Slater P. History of Ancient Parish of Guiseley (Hamilton, Adams & Co. 1880)
CRAVEN MUSTER ROLLS, 1803
WFHG now has the database for Craven Muster Rolls 1803in which over 9,000 people are listed. This has been transcribed by Derek Halliday, one of our members, to whom we are most grateful. The North Yorkshire County Council has the original documents and they allowed Derek to transcribe them but NYCC hold the copyright so we cannot publish the index. However Derek did establish that the WFHG has rights to the index on our computers for reference purposes by our members. The database will be available on our laptops at meetings and members can obtain a printout for any surname for £1 payable to WFHG.
BACKGROUND
The original document, in the care of NYCC, consists of 26 parchments, each measuring about 75½ cm. x 87½ cm. stitched together at the top left hand corner. It was kept for many years at Settle Town Hall and is believed to have been placed there after being stored at a local solicitor's office. The MS is neat and clearly written but some parts have become so worn that a few words are indecipherable.
In 1976 the parchment records were transcribed by Sandra Vasey, with help from Nicholas Bennett and Audrey Hill, and published by NYCC Record Office (Publications No. 9). Copies may be ordered from the following address:- County Record Office, County Hall, Northallerton, North Yorkshire, DL7 8AF. Our Database has been entirely extracted from the 1976 publication except that, to assist researchers, places mentioned in the Rolls are also identified with modern names/spelling and their current Administrative County.
CLASSIFICATION OF ENTRIES
The Acts required the compilation of lists of all men between the ages of seventeen and fifty-five, arranged in four classes:
Class 1 : unmarried men under thirty with no child living under ten years of age.
Class 2 : unmarried men between thirty and forty-nine inclusive with no child living under ten years of age.
Class 3 : married men between seventeen and twenty-nine inclusive with not more
than two children living under ten years of age.
Class 4 : others not included in above classes.
A few Craven Parishes failed to follow this guidance fully in the case of some infirm persons: these are shown in the Statistical Reports as of 'No Class'.
ADDITIONAL INFORMATION
Judges, infirm persons, clergymen, medical men, Quakers, persons serving in the army, navy, marines, militia and volunteers, Lords Lieutenant, Deputy Lieutenants, constables and peace officers were to be distinguished in the lists because they were to be exempt from military service under this act. Those willing to serve as volunteers under the act were also to be distinguished.
FURTHER READING: The Muster Roll has been analysed by R. Lawton in his article on The Economic Geography of Craven in the early nineteenth century. (Transactions of the Institute of British Geographers, no. 20, 1964, revised and reprinted in "English Rural Communities", ed. D. R. Mills, 1973). Copyright North Yorkshire County Council and D Halliday, 2001. All rights reserved.
THE WHITAKERS OF GREENHOW HILL & GRIMWITH
by Hazel Hill
I have been interested in the Greenhow Hill/Grimwith Reservoir area of the parish of Appletreewick since being told by my mother that her grandfather had been a lead miner there.
Research of the IGI and Burnsall parish records confirmed that Wilson WHITAKER, my great-grandfather, had indeed been born there in 1816, one of the youngest of a large family. His father, William Whitaker, was shown as "Miner of Grimwith". The house they lived in is believed to be Grimwith House – now right on the water's edge of the extended Grimwith Reservoir. William married Elizabeth WILSONin 1801 and I think it is possible that he became a tenant (sheep) farmer at Grimwith. From what I have read, tenancies were for 21 years and renewable.
In later years (1830s) William and family appeared to be living at Nussey House, a mile down the valley on the main Skipton to Pateley Bridge road. This was, presumably, a move to a slightly less inhospitable place.
Question: How do I find out about farm tenancies – are there any records of landowners and tenants?
A relative told me that she had heard mention of a "Meer Stone" with "WW" on it, from the Nussey Knott area of Greenhow Hill. Could this be a stone marking the lead mining area of William Whitaker, my g-g-grandfather? (Meerstones are marker stones placed by the piece of land in which a person was entitled to dig for lead).
Q: I know there are many meerstones in the Grassington/Greenhow area. Is there a map of them, or any written record?
Although Wilson Whitaker may have done some lead mining as a teenager growing up on Greenhow Hill, he moved away from the area and, in the 1840s, he was working as a farm servant at Woodhouse Farm in Ilkley. I am wondering if Wilson would have had to go to the Skipton Hiring Fair in order to find an employer. I know that hiring fairs were held twice a year, where people wanting employment would go to be inspected and perhaps taken on by employers to work for a year.
Q: Where can I read about hiring fairs? Would there be any written records?
Wilson's mother, Elizabeth WILSON, was the daughter of John Wilson, curate of Hebdenmoorside in the 1780s. I have found nothing of John Wilson, apart from the fact that he had a wife, Mary, and three daughters. I have looked, unsuccessfully, for his birth and marriage in the IGI and parish registers. There is a possible marriage for him at Sheffield Cathedral at the right date.
Q: How were curates trained? Might he have gone to Sheffield Cathedral? Where would I find personal records? Would Hebdenmoorside church have any records of his employment there?
An extract from a great-uncle's autobiography, sent to me by relatives in America, mentions Grimwith: "August holidays were generally spent there, at Birks Farm, Glusburn. Eddy, Grandma, Annie and I would drive to Grimwith reservoir to the HAWLEYs, their relations." This would have been in the 1880s. Eddy, my grandfather, Annie, his sister, and mother, Mary Whitaker (née DENBY), would have travelled by horse and cart on the hilly journey from Glusburn to Greenhow. Later it mentions that they visited Grassington and Brimham Rocks. When I received this, I didn't know how we were related to the HAWLEYs. Further research showed that Wilson's sister, Agnes Whitaker, married John Hawley in 1837. John Hawley's brother and one of his sons and grandsons became reservoir keepers at Grimwith.
Q: When was Grimwith Reservoir built? Might there be records or correspondence regarding the acquisition of land or appointment of reservoir keepers?
As you can see, there is lots more research to do. Any pointers on where to search would be gratefully received.
Hazel Hill, Furzedown, Les Trachieries, L'Islet, St. Sampson's, Guernsey, GY2 4SS
BEFORE T.V. AND RADIO – PART 2
by Peter Davey
From the Otley & Ilkley Guardian, Friday, 20 February 1880
On Saturday Evening last, the Church Choir of Hawksworth Wesleyan Methodists, with the assistance of friends, gave a miscellaneous concert in the Church Schoolroom, when there was a large audience present. The choir sang in a very creditable manner the glees "Oh, who will o'er the downs?", "My love is like the Springtime", "Queen of the Night" and also the part songs "Ring the Bell, Watchman" and "The Parting Kiss".
"Won't you buy my pretty Flowers" was sung by Miss M.J.POPPLEWELL. "Loving Words" by Miss Sarah DAVEY: "Bobbie,Bobbie" (in character) by Miss S. POPPLEWELL, who was redemanded and in response gave "Gypsy Lane"; "Costermonger Joe" by Mr. Robert DAVEY, who was encored and gave "The Pig Song"; "Grandma's Advice" by Miss C. ATKINSON; "The Dying Child" by Miss A HALLIDAY; "The Organ Grinder" (in character) by Mr. C. HARDAKER, who was redemanded and, in reply, gave the encore verse. "I would if I could but I can't" by Miss S. POPPLEWELL, which was much applauded. The duet by Miss M.J.ATKINSON and Mr. C. HARDAKER was loudly applauded and the same may be said of "Lovers' Quarrels" by Miss J. POPPLEWELL and Master Joseph DAVEY. In the duet "Family Jars", Miss S. POPPLEWELL and Mr. Robert DAVEY were encored and gave in response "The Gypsy Countess". A duet on the piano, by Misses C. and S. POPPLEWELL, was given in first rate style. A dialogue in six characters "The Travelled Monkey" caused much merriment and one in seven characters "Keeping up Appearances" was well received and loudly applauded. Mr. John DAVEY officiated as accompanist."
With such a long programme there was no chance for young people to celebrate St. Valentine's day in a more "personal" way! The Davey siblings were some of the children of Joseph (senior) and Betty Davey at Storth House Farm, Goose Lane, Hawksworth. The lane takes its name from a former public house. One of the Davey family missing on that day was Fred. However, a few weeks later, the Wharfedale & Airedale Observerof Friday 16thApril 1880 reported:
"On Saturday evening last, Master Fred DAVEYtook part in a dialogue in character, entitled "Drunk & Disorderly" or "The Way in which Justice ought to be Administered."
Fred also served as accompanist at a Public Tea in the Primitive Methodist Schoolroom for Baildon Moorside Band of Hope. In later years Fred became organist and choirmaster at Hawksworth Methodist Church and succeeded his father as tenant at Storth House Farm on the Fawkes Estate.
For more of that, see also The Fawkes Family & their Estates in Wharfedale, 1819-1936, by Marion Sharples. Thoresby Society 2ndSeries, Volume 6.
ECCUP – The Demise of a Township
by Stanley Merridew
There can be few places within the Leeds city boundaryas seemingly remote as Eccup. If you stand anywhere in the hamlet it is difficult to imagine you are only six miles from the city centre. It is now in the fairly distant past since Eccup was a thriving village. Today it comprises a public house, a few farms, a few cottages but little else. The harbinger of its fate was the suggestion, as long ago as 1834, to build a reservoir in the area.
At that time much of the land was owned by the Harewood estate. The Harewood archives reveal plots of land being sold to Leeds Waterworks Company as early as 1840. Many of the farms were small and often those renting the land survived only by having two occupations, as can be seen from the 1851 census:-
Harrison carpenter/farmer
Rhodes shoemaker/farmer
Sowden wheelwright/farmer 4 acres
Lupton shoemaker/farmer 4 acres
Dickinson 6 acres
Kettlewell 7 acres
Hainsworth 7 acres
Mawson 10 acres
Only a few appear to have been of tenable size: Hanson138 acres, Wright122 acres, Mawson96 acres, Pawsonat Lineham Farm 140 acres, Mallorie183 acres at Hird Farm, Hartley82 acres at Owlet Hall, Thackrayand Clarkeboth at East Breary farming 114 and 80 acres respectively.
One interesting family residing at Eccup, according to the 1851 census, was the Wrightfamily. Wright senior was born at Brentwood Essex, a railway labourer with five children, all with different birthplaces. He would have had a fair walk to work and back, if he was working on the Leeds/Harrogate line. The inhabitants also included a schoolmaster Pearce, born Sutton on the Forest, York. Eccup school was built in 1826 and extended in 1876 following the Education Act.
The total population in 1851 was 279, comprising 139 males and 140 females, living in 57 houses, with two uninhabited. In each subsequent census the population reduced, as Leeds Waterworks Co. and, later, Leeds Corporation, gradually bought land, as it became available, to provide room for the reservoir to begin operation.
Other records, such as parish registers, can be used to check on population movements, comparing baptisms and burials. However one is relying on the incumbent to give full details of abode, in order to identify Eccup residents from other townships within the parish. Voting records can also be used but, before the changes to qualification in the latter part of the nineteenth century, they are of little worth. At Eccup we are fortunate in having other sources to see how the population moved. Where they survive, school logbooks can be a useful source of following population trends. A visit by the Reverend G. Lewthwaite, vicar of Adel in 1876 states the number of children on the roll as thirty. The arrival of new scholars is regularly recorded:-
4 July 1876 New scholars today from Stub House Farm.
3 June 1878 Three new scholars from Black Hill – boys.
4 June 1878 A new scholar from Bedlam
12 May 1879 A new scholar Sarah Emma Robinson.
4 March 1895 Admitted two boys from Glebe Farm.
Rarely does the schoolmaster consider future family historians, when making his entries, by inserting the child's name. However, by reverting to the census, we can often glean the missing information. The nearest census to these dates, 1881, sometimes includes addresses, even in the more remote areas. On this occasion Bedlam, Glebe Farm & Stub House Farm do not get a mention but there are two entries for Blackhill, showing the BOYCEand KIRBYfamilies. As the Boyce family had three sons in 1881 who would have been of school age in 1878, they could possibly be the new pupils mentioned.
Admissions appear at first glance seem far more common than departures. Though on 28 January 1891 we find the following comment:-
"The last ten months have played sad havoc with this little school. During this period the school has been decimated several times – from some cause or another. 41.9% of the whole school have left and of this lot only one infant is included, the rest being upper standard. Here is a list of scholars who have left since last inspection:-
Joseph MERRITT ex V11 standard O PALEY ex 1V
A M WRIGHT ex V1 Robert KETTLEWELL ex 1V
Percy TODD ex V1 Polly DALBY ex 3
Harry DALBY ex V1 Lo WRIGHT ex V
Len SCOTT ex V Fred DALBY ex 3
Jas COATES ex 1V Elizabeth LIVERSEDGE infant
Thomas POULTER ex 3
By 8 April 1910 the school roll had fallen somewhat:-
"The attendance has been very fair this week average 17.1 = 90%, telling us the number on the roll had reduced to 19. The school did manage to survive until 1942 when Mrs Bertha Taylorwas the headmistress.
The Methodist Chapel, which was very much the centre of the community, was demolished in the 1950s. This and the closure of the school would have seriously reduced the social life in the village. The school building was later used for occasional church services.
If one checks through the parish register, the most enduring families are Dalby,Todd, Thornton, Harrison, Hanson. Some of those names appear very early in the register and members of those families are still in the parish today.
One could argue that Eccup was a casualty of modernisation and its existence was sacrificed for the greater good of the city. However it is ironic that, despite its close proximity to the reservoir, the villagers relied on springs for their supply and had no mains water or mains sewerage until the second half of the twentieth century!
Keep off your thoughts from things that are past and done;
For thinking of the past wakes regret and pain
John Wain (1925-) translated from the Chinese of Po-Chü-I
WILLIAM USHER,
A 19THCENTURY COUNTRY DOCTOR
by Anthony Petyt
Until the middle of the 18thcenturythe medical profession consisted of physicians, surgeons and apothecaries. Most medical training was by serving an apprenticeship. It was possible to study medicine at Edinburgh and a few foreign universities, but it wasn't until the late 18thcentury, when a number of provincial medical schools were established, that a more thorough medical training was available. In 1858 medical education came under the authority of the General Medical Council. Many of the general practitioners that served their communities so well during the 18thcentury were trained under the apprentice system and such a man was William USHER of Ilkley.
William Usher was born at Ilkley in 1839 the son, of Edward Usher and his second wife Grace WILKINS. Edward Usher had been born at Saxby in Lincolnshire in 1801 and, sometime in the mid 1820s, he and his first wife, Mary, moved to Ilkley. Edward was determined to get on in life and amongst his business ventures were setting himself up as a coach proprietor, later as a joiner and builder and latterly as a lodging-house keeper. This last enterprise was the most successful. By 1841 he was firmly established as a lodging house proprietor at West View, Ilkley. It is interesting to note that it was at this lodging house that Hamer STANSFIELDinstalled Dr. Antoine RISHANEK to conduct a hydrotherapy practice, using the baths at White Wells, until the Hydro was completed. Edward and Mary were to have three children before her death in 1832: Edward born in 1828, Thomas Stevenson in 1830, and Joseph in 1831. Edward and Joseph were to die young but Thomas was to go on and qualify as a doctor and he was, no doubt, to encourage his younger half-brother, William, to follow him into the medical profession.
Mary died in June 1832 but, by November of the same year, Edward had met and married Grace Wilkins at Addingham. They had four children, all born and baptised at Ilkley: John Wilkins in 1835, Elizabeth in 1837, William in 1839 and Robert in 1840. During the 1850s Edward was doing so well with his lodging house business that he opened a second establishment at the Crescent in Ilkley. Two of his sons were also keen entrepreneurs: John and Robert both went into business as shopkeepers. At one time John was a confectioner in Leeds and Robert a draper in Ilkley until they joined forces to run a grocer's and druggist's shop in Ilkley. This business was still being run by Robert in 1881 at premises in Brook Street, Ilkley, but only as a chemists and druggists. Elizabeth, the only daughter, remained unmarried and continued to run the lodging house business. She died in 1919 at the house where she had lived for almost all of her life: West View, Ilkley She was one of the last people to be buried in the graveyard of Ilkley Parish Church.
William decided to follow in the footsteps of his older brother, Thomas, and become a doctor. Whereas Thomas was a Member of the Royal College of Surgeons, a Licentiate of the Society of Apothecaries, and held the degree of M.D. from St. Andrew's University William became an apprentice to an established general practitioner. It is not known which doctor he was apprenticed to but as he was connected with the DUCKWORTH family of Addingham and their successors for all his working life it can probably be assumed that he served his time with either Dr. William or Dr. Walter Duckworth. The head of this medical family was Dr. Joseph Duckworth who was born in Lancashire in 1765 and by 1841 was well established in Addingham as a surgeon and general practitioner. He had a family of at least seven children all of whom born in Lancashire. Two of his sons, William and Walter, became doctors. By 1851 Dr. William Duckworth and his wife, Sarah, along with their young family were living on Bondgate in Otley. By 1871 William Usher, now aged 29 and presumably out of his medical apprenticeship, was living with the family and employed as a surgeon's assistant. A few years later William Usher was at Addingham working for Dr. Walter Duckworth, brother of William, who had taken over that practice on the death of their father, Dr. Joseph Duckworth. The 1881 census shows William Usher lodging with the Duckworth family on Main Street, Addingham, his profession is shown as General Practitioner's Assistant, unqualified. Also lodging there and working for Walter Duckworth was Dr William BATES, who was to take over the practice on the death of Dr. Duckworth.
It was in Addingham that most of William Usher's active years were spent. He built up a reputation as a caring and conscientious doctor and was highly regarded over a large area. Apart from dealing with the usual ailments he also performed minor operations either in the patient's own home or in the surgery. His medical kit still survives and is owned by a member of the family who is a doctor. He also built up a reputation as a dentist and it is said that people would walk miles to have a tooth pulled out by him. When he died in 1911 his obituary in the Craven Herald stated…'Closely following the traditions of the older-fashioned country practitioner, he was almost daily to be seen mounted on his sturdy hack, traversing the highways and byways of Wharfedale on his mission of ministering to the sick, and many of his former patients still bear testimony to his uniform patience and skill in the healing art.'
In 1883 William married Elizabeth PETYT, a fascinating character in her own right. She was the sister of Joseph Petyt of Stank House, Bolton Abbey, who was land agent for the Duke of Devonshire. Elizabeth was a talented musician and her long service as organist at Bolton Abbey Church for fifty years is recognised by a brass plaque on the organ case. Elizabeth was the tenant of Hardy Grange at Beamsley and a successful farmer. She also managed to find time to be the sewing mistress at the Boyle and Petyt School at Beamsley. The school logbook for January 24th1883 has the entry…This morning Miss Petyt the sewing Mistress was married to Wm. Usher Esq. Surgeon of Addingham. After their marriage they continued to live at Hardy Grange and William built an extension to the house which he used as a surgery for the next fourteen years until his retirement from medicine. He also began to share his wife's interest in farming and took a great deal of pride in the stock they exhibited at the local shows. William played his part in local affairs; he was one of the Foundation Managers of the Boyle and Petyt School at Beamsley and for some years was a governor of the school appointed by the governors of Skipton Grammar School. For many years he was a sidesman at Bolton Abbey Church and from 1903 he held office as Rector's warden.
William died at Hardy Grange on 19thFebruary 1911 and was buried in the graveyard at Bolton Abbey.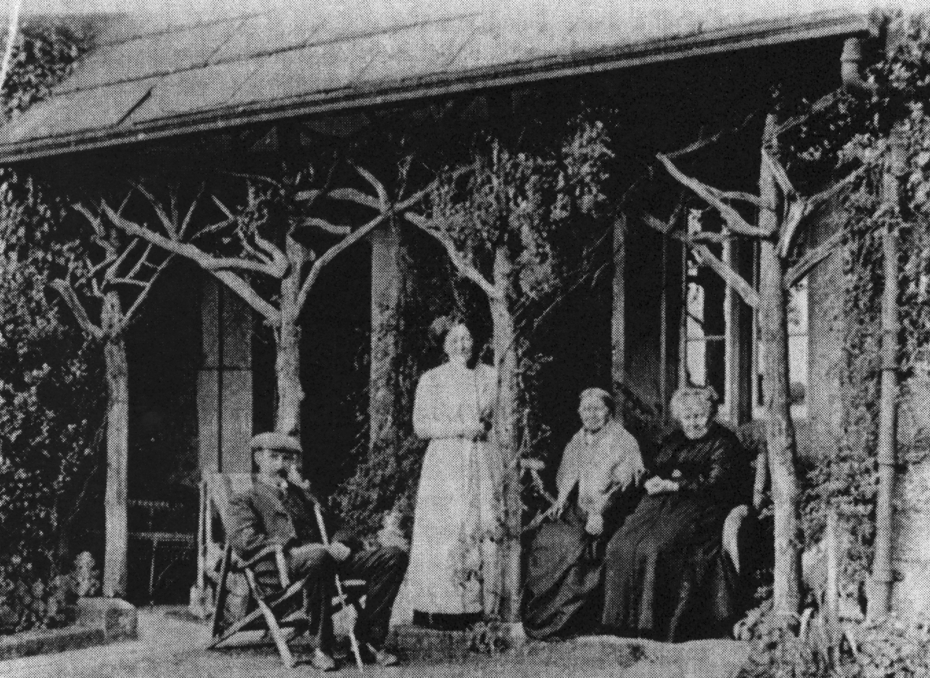 L to R: (1) William Usher at Hardy Grange, Beamsley, 1895, (2) Elizabeth Usher
(née Petyt), (3) Margaret Johnson, sister of Elizabeth, (4) Unknown
TIMBLE CENSUS IN 1767, by Dave Teal
Whilst researching my ancestors in the vast Manorial Records of the 'Forest of Knaresborough', deposited in the Public Record Office, London, I came upon a list of encroachment in the Forest. Encroachments were fines, levied by the Lord of the Manor, for using land to which you were not entitled. By the 18th century they had become another name for an annual rent, but without the same rights as standard Manorial tenure, for which you would have a copy of the Court roll, showing your entitlement and called copyhold land. The value of fine related directly to size of the land encroached. Within the 'Forest' most families had some of their land by this method and, therefore, a list of fines is a mini-census of the village. To show you how rich the records are, the following is a transcript for the area around Timble in the Parish of Fewston:
Forest Court held in Knaresborough Castle on Thursday 22ndOctober 1767
Timble – Thomas Tiplady – Constable
William RIDSDALE 1s, Richard HENSON 1s, William WARD 1s,
Widow SPENCE 2s, Thomas TEAL 1s 2d, John RHODES 6d,
John JEFFREY 6d, Thos. RICHARDSON 1s, Ellercar 1s,
William RIDSDALE 6d, Atkinson INTACK 1s,
William JEFFREY, 6d, Irish BRAMLEY 6d,
Peter BRAMLEY, Joseph CROFT 1s,
Widow MASON 6d, John SHARP 2d, Joseph STUBBS 2d,
Joseph MAWHOOD 2d, John NEWSAM 3d,
William RICHARDSON 4d,
John NEWSAM 4d, Joseph SMITHSON 4d,
Richard BUTTERFIELD 4d,
Thomas WARD 4d, Thomas PARKINSON 4d,
Robert HARDISTY 4d,
Thomas TIPLADY 4d, Robert IRISH 10d,
Richard BOULTON 1s,
John PARKER 1s, James MOON 1s,
Widow METCALF 1s,
Sim MOORHOUSE 1s, James MOON 1s 6d,
Thomas TIPLADY 1s 6d,
Henry BRAMLEY 1s, John JACKSON 1s,
Joshua YEADON 1s 6d,
Widow COAR 3d, John SWAIN 2d,
Thomas HODGSON 1s,
Joseph WATSON 1s, Charles BAXTER 2s,
Francis VARLEY 1s 3d,
Thomas TIPLADY the younger 1s 6d,
John PARKER 6d,
Stephen PARKINSON 6d, William HARDISTY West House 1s 6d,
Christopher WATSON 6d, Major THEAKER 6d,
William WATSON 1s,
John IRISH 9d, George SPENCE 1s 6d,
William HOLMES 6d,
Samuel STUBBS 4d, John FORREST 1s 6d,
Widow STUBBS 1s,
Thomas WARD 3d, William HARDCASTLE 6d,
William DEARLOVE 1s,
William ROBERTS 1s 6d and Luke BEECROFT 6d –
For erecting Cottages and making Incroachments
upon the waste of our Sovereign Lord the King in Timble.
Public Record Office Reference: DL30 / 620 Court Ledger, selected from Pages 184 – 190
The 'Forest of Knaresborough' Manorial Court covered land in the Parishes of Burton Leonard, Fewston, Farnham, Great Ouseburn, Hampsthwaite, Knaresborough, Pannal, South Stainley and Staveley and over the townships of Castley in Leathley, Clint and Killinghall in Ripley, Coneythorpe in Goldsborough, Dunkeswick and Weeton in Harewood, Lindley in Otley, Plumpton and Ribston Parva in Spofforth, Rigton, Swinden and Stainburn in Kirkby Overblow and Haverah Park,. extra parochial. The records contain lists of encroachments for all these places.
GRIMWITH RESERVOIR
by Myra Simmonds
My Mother, Hannah Maria SIMMONDS, née HAWLEY, was born at Grimwith Reservoir in 1911, the eldest daughter of Fred Hawley, who was reservoir keeper at that time. She told me that the reservoir was built in the mid 1860s. In order to confirm this, I telephoned Yorkshire Water in Leeds. I was put in touch with someone who had access to the historical records of Bradford Corporation Water Works (B.C.W.W.), who were responsible for the building of the reservoir at Grimwith. I was given the following information: "The building of the dam started in 1856 and the reservoir was first filled in 1861. However, there were problems with the tunnel and with settlement and it was 1863 before it was successfully filled and a magistrate's certificate, saying that it was safe to use, was issued in 1864."
The first reservoir keeper was William Hawley, born 1812, the son of John and Elizabeth Hawley of Hartlington Moorside. The 1851 census tells us that William was living at Grimwith with his wife, Rachel, and family and his occupation was farmer of 433 acres and gamekeeper. In 1870, at the marriage of his daughter Jane, his occupation is given as Reservoir Inspector. William died in 1876 and he was succeeded by his nephew, who was also named William.
This William Hawley was the eldest son of John and Agnes Hawley of Dibbles Bridge. Agnes was the daughter of William WHITAKERof Nussay House. Before becoming second reservoir keeper, he was mining agent for the Grimwith Lead Mining Company Ltd. and had married Maria ATKINSON, youngest daughter of George Atkinson of Low House, Barden, in 1875. The family moved to Grimwith in 1876. They had three children: John (later to become Clerk of Works for the West Riding), Elizabeth, who married William KINGof Greenhow, and Fred, who was became the third reservoir keeper on the death of his father in 1910. Fred married Louisa ROBINSONof Fold Bottom Farm at Appletreewick.
My Mother was Fred and Louisa's eldest daughter and used to tell me many stories of her life at Grimwith. She told me that sometimes, when the level of the water in the reservoir was low, it was possible to see the foundations of an earlier house, which was there before the reservoir was built. This was at "Grim'eth End", the part of the reservoir near where the now derelict Grimwith Farm stands.
In a DalesmanPublication (1974), Famous Yorkshire Homes, by William HEBDEN, it mentions "Grimwith Manor, for centuries the home of a branch of the old Saxon family originating at Hebden in the dale below". I wonder if the foundations under the reservoir were those of Grimwith Manor?
The original reservoir was enlarged by Yorkshire Water to its present size in the 1980s and the old reservoir house disappeared, along with Ram's Close and Gateup (except for a bit of the old Gateup House)
DEATH OF THE OLDEST WOMAN IN YEADON
"On Thursday last, the widow of the late Samuel MYERS, Cloth Manufacturer of Yeadon, died in her 93rdyear, being born 29thOctober 1784. Her late husband, who died 23rdSeptember 1871, was in his 87thyear. Both were born in the same year in Yeadon, where they lived all their lives.
They were married in their eighteenth year and lived together in matrimony all their lives, nearly sixty-eight years, there being 16 children, 13 of whom lived to be men and women. The eldest son is in his 74thyear.
The object of this notice left behind her, eleven sons and daughters, fifty-two grandchildren and one hundred and twelve great grandchildren; in all one hundred and seventy-five persons, all living.
At the funeral, which took place at the Wesleyan Chapel on Saturday afternoon last, a large concourse of persons assembled, when such a procession of relations followed the deceased to the grave, as is rarely seen."
Mrs.MYERS, when young, used to card and slub by hand. Her eldest son, above referred to, emigrated to Australia thirty years ago with a small family. He now has eleven children and forty-two grandchildren, all living, so that, if his family had been present at the funeral, the procession would have been considerably enlarged.
SamuelWILSON, the father of Nancy, son of Mary Wilson, was born February 1757, base-born son of Samuel MARSHALLand Mary WILSON, who married in May 1763. Samuel Myers and Nancy Wilson were my great-great-great-grandparents. Their granddaughter, Anne, daughter of David, married William HARDAKER, of Town Street, Rawdon, in Australia.
Bertha Davis
PS. I have many times removed great-grandparents related to Thomas CHIPPENDALEbut I have given up hope of ever seeing a piece of Chippendale furniture, let alone owning a piece.
Relativity, by Albert Einstein (1879 – 1955)
When a man sits with a pretty girl for an hour, it seems like a minute. But let him sit on a hot stove for a minute – and it's longer than any hour. That's relativity. (Attr.)
THE LEECH FAMILY
and HOW THEY MADE THEIR WAY IN THE WORLD
by Anthony Petyt
One thing that has always intrigued me during my research is the number of times the same names of farms or houses has turned up. At first I simply thought that people were mixing up facts, but a careful study of the relevant documents has revealed this not to be the case. This study shows that hard work could have its reward. You could return to a farm as the farmer, when previously you had been the labourer, and it was also possible that good fortune could come your way through other people's efforts on your behalf. A landlord would often take into consideration his tenant's recommendation for a successor, even if closely related. The following is an account of the movements of the family of Robert LEECH, over a period of about a hundred years. The facts have been culled from census returns, birth, marriage and death certificates and other family papers.
Robert Leech was born in 1816, the eldest of the six children of William and Elizabeth Leech of Wigglesworth. Robert, like his father, was a farm labourer and, in 1841, we find him working for, and living with, John LAMBERT, a farmer of Hambleton House, Bolton Abbey. In 1845 he had met Mercy PETYT, the daughter of George Petyt of Wells Farm, Hazlewood. In the following year a daughter, Sarah Ann, was born to the couple but, for reasons unknown, they did not marry at that time. In 1851 we find Robert staying, for the night of the census, at the home of Jonas HANSONat Draughton. Presumably Robert was still working at Hambleton at the time. Jonas was a relation of Mercy Petyt, as his daughter, Mary, was married to her cousin, Christopher Petyt. In 1855 Robert and Mercy finally married at Skipton Parish Church and they set up home in the Addingham/Draughton area. It was here that their next three children, William, George and Mary, were born. By the time of the 1861 census they were living at Hetton and it was there that their youngest child, Lawrence, was born. At this stage Robert was still employed as a farm labourer. By 1871 Robert had moved up in the world and was now living again at Hambleton House but this time as tenant and he was described as a farmer of three acres and lime burner. His three youngest children were still at school but his eldest son, William, worked for him and, in the census return, was described as a lime burner.
In 1881, Robert, by now a widower, was still farming his three acres but was also described as a quarry contractor. His eldest and youngest sons, William and Lawrence, were assisting him in the quarrying business and his daughter, Mary, was keeping house for them. The second son, George, was living with his uncle, Henry Petyt, at Wells Farm, Hazlewood, and learning the trade of a farmer. Also living with Robert was an eleven-year-old grandson, George Henry Petyt. Harry, as he was known in the family, was the son of Sarah Ann Petyt, Robert's daughter, who had been born several years before he married her mother, Mercy. Soon after Sarah's birth, she had been taken in by Mercy's sister, Ellen, who had married Ellis LISTERof Addingham. Ellis had done well for himself and was farming 128 acres at Halton East. They had a daughter of their own, Isabella, who was to become something of a mystery in the family. By 1868 Sarah Ann Petyt had met John PALMERof Thorlby, had his child in 1869, married him at Manchester Cathedral in 1870 and set up home in Burnley, leaving their child to be brought up by the Leech grandparents at Hambleton.
In 1886 Henry Petyt of Wells Farm, Hazlewood, died. His nephew, George Leech, was able to get the tenancy of the farm and he continued farming there well into the next century. He eventually retired to a house in North Street, Addingham and died there in 1930. In 1881his uncle had inherited , from his niece, Isabella WRIGHT, née LISTER, a cottage at Fern Bank, Draughton. Why he inherited it is not clear because Isabella was married to a William Wright of Silsden and she died at their house on Bolton Road in 1881. An early will of Henry Petyt's, drawn up in 1881, states that he had inherited the property as the heir at law, so presumably William Wright had not made any claims on the property his wife had purchased in 1851, long before their marriage. Henry Petyt left this cottage to his niece, Mary Leech.
Robert Leech and Mercy Leech (née Petyt) with their youngest son, Lawrence Leech. Photograph taken about 1875 by Geo. Inskip of Skipton
In 1889 Robert Leech died at Hambleton and his eldest son, William, took over the tenancy. In 1890 William married EleanorBIRCHfrom Burnsall and they continued with the small farm and quarry work until 1901 when William took on the tenancy of Skellands Farm at Kirkby Malham. In 1903 William obtained the tenancy of Crakelands Farm at Halton East and they were to remain there for the next 16 years. William and Eleanor did not have any children and they both devoted themselves to work in the community. He was a member of the choir at Bolton Abbey until his death and was responsible for the musical portion of the services at the mission room at Halton East. He represented Halton East on the Skipton Board of Guardians and Rural District Council for over 20 years, as well as being Chairman of the Parish Meeting for 18 years. He was an Overseer of the Poor, Chairman of the Trustees of the Halton East Charities, and lay reader at Beamsley Hospital. He served on the Church Council, and prior to being elected people's warden in 1923 was a sidesman.
In 1919 William took up semi-retirement and obtained the tenancy of the 12-acre Banks Farm at Storiths. In 1924 he became fully retired and returned to live at Hambleton House where he died in 1927. When William left Crakelands Farm at Halton East the new tenant was Ernest WALLBANKwho married his wife's niece in 1921. The marriage at the Priory Church took place from Banks Farm at Storiths and caused quite a lot of interest in the area as Ernest's bride, Mary Annie METCALFEand her sister Eleanor Metcalfe had a double wedding. Eleanor's husband was Anthony GARTH. When Eleanor Leech's health broke down she moved back to Crakelands Farm to live with her niece and she died there in 1937.
Lawrence, the youngest of the Leech brothers, married Margaret MILNERof Aysgarth in about 1899. They had four children but, sadly, Margaret died giving birth to stillborn twins in 1901. Lawrence, who no doubt needed someone to look after his young family, soon married Isabel WRIGHTof Hetton. Lawrence had first set up as a farmer at small premises opposite Fern Bank in Draughton. In 1891, his sister, Mary and his nephew Harry Petyt were living with him. In 1893 Harry was married at Skipton Parish Church to Elizabeth HODGSONwho was a nursemaid to the children of William SCOTTof Oakfield, Beamsley. In 1894 Harry decided to leave farming and obtained a post in the prison service at Wakefield Jail. In 1904, after a period as housekeeper to a clergyman in Leeds, Mary, Lawrence's sister, married William BERRY, a farmer of Far Cringles Farm, Silsden, as his second wife. At the time of her marriage at Bolton Abbey, Mary was living with her older brother, William, at Crakelands Farm, Halton East. In the mid-1920s William and Mary retired from farming and took up residence in the cottage at Fern Bank, left to Mary by her Uncle Henry Petyt.
Lawrence Leech was an ambitious man and soon left for larger premises at East Berwick and later at Syke House Farm, Addingham. On the agricultural side he bred horses, heavy types for farm work and lighter types for vans and traps. He also ran three wagonettes from Addingham to Skipton via Bolton Abbey. He eventually sold the licences to the West Yorkshire Car Company. He was also involved in the running of quarries at Hambleton and Skibeden. At Syke House he had dairy cows and sheep and as an extra money earner took in visitors. The BUSBYfamily of Bradford (furniture retailers) often stayed at the farm. Lawrence retired from farming in 1932 and took a large house on Dragon Parade in Harrogate where he let off rooms as bed-sitters. He died at his sister's house at Draughton in 1936 and was buried at Stonefall Cemetery at Harrogate.
In 1924, after 30 years in the prison service at Wakefield, George Henry Petyt felt a desire to return to his roots at Bolton Abbey. This was at the time that his Uncle William Leech was considering retirement from farming for good. A word to the Duke of Devonshire's agent, whose wife incidentally was the former Emily Petyt, daughter of Joseph Petyt, a previous agent to the Duke, and the tenancy of Banks Farm at Storiths was his. George Henry remained at Storiths until his health broke down in 1930 and he moved to Bradford where he died in 1931.
Our ancestors may not have moved far but some of them certainly moved many times in the course of their lives. ■
THE X-BABIES
An article by Jack Gee, called "The Lost Children", revealed the plight of children who never knew who their parents were. (Sunday Express Magazine, 21 January 2001).
Every year in France seven hundred children are left in hospitals at birth. They are known as the X-babies and they grow up with no way of ever knowing who their parents were.
In 1941 a law was passed by Marshal Pétain that was applied in both Vichy and Nazi-occupied France. It said that any Frenchwoman could turn up at a hospital, give birth and walk out alone, without providing a name or address. The baby left behind is motherless and nameless. The law still stands. Even today, these babies are just an X on a birth certificate, followed by a number. Every year seven hundred such births are registered.
The law was passed to conceal adultery and cover up the extent of sexual relations between German soldiers and Frenchwomen, many of whose husbands were POWs. Marshal Pétain said, "We must protect family values. We owe this to our heroes lingering in German camps". He feared a wave of domestic murders – crimes passionnels.
The article describes the efforts of four X-babies to find their mother. Six thousand a year make the attempt but only one in a hundred succeeds. One searcher failed completely. Another managed to find the wet nurse who breast-fed her in hospital. Another found her mother, who refused to see her. One who succeeded is now in contact with his mother. He says, "I came to understand her distress at being left pregnant by a scoundrel."
The French government says it intends to scrap the law but the French Academy of Medicine argues that it would lead to more babies being abandoned on rubbish dumps.
THE LEECH AND BIRCH FAMILIES
by Monica Taylor
As a follow-up to the LEECH family as described by Anthony Petyt in the last issue of WFHG Newsletter, I thought it would be interesting for our readers to know a little about Eleanor BIRCH who was married to William LEECH.
Eleanor was the fourth child of eleven of John Pickersgill Birchand Elizabeth LAMBERT of Burnsall. There had been only one brother who died at birth, and I believe only seven children in all that survived to adulthood. Eleanor married at the age of 24 and, as the previous article has stated, had no children. This is quite surprising in many ways as not only was her own family large, but her father was one of seven or eight and her grandfather one of eight as well. She was born about 1866 and died in 1937 and would have been my father's second cousin. (As my father never talked about his family, it was surprising to find the quantity of Birch relatives that existed in Wharfedale when he was growing up!)
Eleanor's father, John Pickersgill Birch, was a rare personality of the Dales. He established, at the age of 21 in 1856, the first postal service between Burnsall and Grassington, carrying letters for a penny apiece. Later he became a carrier between Burnsall and Skipton. He died at the age of 89. He was also pig sticker, butcher, and bell ringer and was well known in the area by his hat and his horse! He always wore the same hat and over the years it was well weathered and sat askew on his head and, along with his horse and cart, he depicted a fine old Dalesman!
He also killed pigs for Mr. Fred STOCKDALE,who was in business in Sheep Street in Skipton. John's hobby was bell ringing and nearly all his life was one of the ringers in Burnsall Church, and on occasion took part in the ringing of the Skipton Parish Church bells. One of his son-in-laws, Chris INMAN, was also a bell ringer. John was in the Burnsall Church choir and performed the duties of clerk to the Church as well.
John Pickersgill Birch's ancestors resided in Burnsall for many years and he would proudly show a small pane of glass in the upstairs window of his home in Burnsall upon which was scratched the name "Richard PICKERSGILL', and the date 1767. Richard was his great uncle [or possibly his great grandfather]. John's father was Henry Birch, a joiner, labourer and sometime miner in the Wharfedale area. His grandfather, Thomas Birch, had been a farmer and miner in the Hartlington Moor area and originally came from Simpson's Fold in Leeds, c.1795. His grandmother was Dorothy FETHERSTONHAUGH, whose father came from the Featherstonehaughs of Barhaugh, Northumberland. Other surnames, from Eleanor Birch's line, are KIDD, RAWLING, LAMBERTand probably some I have missed.
EVERYONE A WINNER
by Peter Davey
In a year when so many agricultural shows have been cancelled(2001), it seems ironic that I should come across five volumes of Craven Agricultural Societyin Skipton Library. These bound leaflets contain the classes entered at shows in 1855-65, 1866-73, 1889-1896, 1897-1904 and 1905-1911. The later ones also have many advertisements for local businesses and they all have lists of agricultural equipment available at the time. The competitors in the early years were mainly from the Craven area but, as time progressed, the development of the railway made it possible for competitors from far and wide to take part in the shows.
I have selected, in a parochial sort of way, entries which relate to the Wharfedale area but members with the time to trawl through the thousands of names might be lucky enough to find some snippet of information to lend a little colour to a name on a chart.
The first entry found for Wharfedale relates to a short-horn bull called "Young Lord Morpeth", age 2 yrs 2 months and entered by Joshua Wm. YEADONof Fewston. Charles MOONof Beamsley entered "Nancy" in Cows for Dairy Purposes.Competition was not confined to farm livestock and I was amused by a special prize: "Mr. Thomas ROBINSON's Prize for the Male Servant in Husbandry, who has remained in his present Service, not being a Relation by blood to the Master or Mistress of the Family." William WEST, servant with Mr. Nicholas HITCHINGof Craco [sic]entered (or was entered) in this class.
16thSeptember 1859 has John HAYTHORNTHWAITEof Arncliffe entering in the class for Best Brood Mare for Coaching. I assume this relates to the carriage business and not to training! The class for Best Shepherds Dogon 28thAug 1863 included, perhaps not surprisingly, a large group of Wharfedale entrants:-
ThomasYOUNGof Laund House, Barden; Wm. WALLof Addingham; Wm. BLANDof Peak Ridding, Addingham; Wm. READof Bolton Abbey, Joseph LAMBERTof Threshfield; Jeseph BOOTHMANof Grassington and Wm. STOCKDALEof Thorpe.
In 1906 there was great rivalry amongst the ladies in the Butterclass. These included: Mrs. Robert METCALFE, Old Hall, Threshfield; Miss Lizzie MOON, Hospital Farm, Bolton Abbey; Mrs. Joseph MARSTON, Snowdon, near Otley; Miss M.E. SMITH, Beech Farm, Langbar; Mrs. Joseph DUNN, Gildersber Farm, Ilkley, Mrs. George DEMAINE, Catgill, Bolton Abbey; Miss E. HORNER,Starbotton near Skipton; Mrs. PEEL, Highfield House,Turner Lane, Moorside, Ilkley, and Mrs. DAWSONof Newall farm, Otley.
Rather worryingly, Nat. CLAUGHTONof Guiseley entered Dragons in the show of 1905. Now Nat Claughton was the proprietor of "Nat Clafton's Booit Fact'ry" and my Auntie Nellie (HARDAKER) worked there about this time. Local Members will know the factory, which until recently was the Silver Crosspram works. Descendants of Mr. Claughton preferred to have their name pronounced "Clorton". And the Dragons? They turned out to be a type of pigeon!
A CLOSE LOOK AT ESHOLT
by Stanley Merridew
The village of Esholt is best knownas the former site for village scenes in Yorkshire Television's Emmerdale. It first came to national notice during the sale of the Esholt estate in the early part of the last century. Sited off the main road, it has largely retained its rural nature. However, in character with most villages with a power source, water, it did change dramatically during the eighteenth & nineteenth century, despite its closed nature as an estate village.
The estate now owned by Yorkshire Water was the former home of the CROMPTONSTANSFIELDfamily. The hall had passed through the CALVERLEY, ROOKES, STANSFIELD&CROMPTONfamilies, related by marriage through lack of a male heir. The estate was eventually sold to Bradford Corporation to make way for building the sewerage works in 1904. The last owners were three spinster sisters of the Crompton Stansfield family. Evelyn Maud, Elizabeth Alexandria & Consuelo Albinia refused to move when the original compulsory purchase order was placed in the eighteen nineties. After the estate was sold Consuelo Albinia married, in 1905, a retired clergyman named McCALL and set up home at Barrowby near Kirkby Overblow. Evelyn Maud took over the family estate at Ringwood in Hampshire. Elizabeth Alexandria moved to the family estate at Buckden. Her life there is well documented in Memories of Upper Wharfedaleby Thomas Hebden Metcalfe. All three sisters died childless.
The available written sources tell us about the hierarchy on the estate but what about the other families? Until St Paul's church opened in 1840, Esholt was part of Guiseley parish. Unfortunately the early registers do not appear to have survived. Leeds Archives only hold the marriage register for 1856-1968. The last survey carried out by West Yorkshire Archives in the 1980s shows that the church holds the baptism & burial registers from 1854 to date. Our group has published the memorial inscriptions from the churchyard and inside the church. Parish register entries usually state the township of the person being recorded, so we can ascertain Esholt residents in this way from the Guiseley registers which, as an ancient parish, pre-date those at Esholt. Leeds Archives hold the Guiseley parish records, these also include a number of records relating to the poor law which may show Esholt families.
A Wesleyan chapel was built in 1847 but closed 1925. Bradford Archives hold a baptism register for 1894-1904. According to James MYERS, who wrote Primitive Methodists in the Otley Circuit,therewas also a Primitive Methodist Chapel at one time, though the site is not known. He also mentions that Hannah BOLTONwas caretaker and George GILLwas a local preacher. Again according to Myers, "The chapel closed in 1876, due to tradeless conditions and numerous removals."
The West Riding Poll book of 1741 lists only the following as residents:-
David DENBY, Christopher HODGSON, Charles HUDDERSWELL, Wade PRESTON, Richard PULLEYN, Benj RENDALE, Jos WALKER.
No clues are given as to their occupation but we can judge from their entry in an early poll book that they were not on the breadline. The 1807 edition of the same publication does give us more clues:-
Ellis CUNLIFFE,tanner; Joshua CROMPTONesq; Thos HARPER,gent;
William LAYCOCK,yeoman; Thos MITCHELL,woolstapler; John RIPLEY,grazier; John SUGDEN,wheelwright; Joseph YEADON,yeoman.
The first available directory is Baines Yorkshire Vol 1 1822. This shows a population of 355, probably taken from the 1821 census, plus the following list of residents:-
Joshua CROMPTONesq., Esholt Hall; John BELL& Co, worsted man; Miss COOPER,scribbling & fulling mills; Ellis CUNLIFFE,tanner; John GILL,worsted spinner; William NUNWICK,blacksmith; Joseph ROBINSON,steward for Mr CROMPTON;Joseph RIPLEY,cattle dealer.
Here we have the first indication of manufacturing with two mills opening. This may have attracted some workers from outside the area and some would have been employed from Guiseley & Baildon. Our first opportunity to check this is with the 1841 census. This shows the township population as 443 living in 79 households. The 1841 census does not give exact places of birth, only whether born in the county of residence. Of this total only eight were born outside Yorkshire. By referring to the 1851 census (also available in indexed form) we find that only one of the eight, Thomas CLIFFremained. He was a gardener working at the hall and hailed from Northamptonshire.
In the 1851 census the population had fallen to 397 residents, from 78 households. In all but 26 of the households, one or more persons was directly employed in the textile trade. This is the first census to show exact place of birth and we discover the majority of the textile workers have been drawn from adjacent townships with a few exceptions, such as the FIELDENand BAINSfamilies from Lancashire.
Ten years later in 1861 the population again fell to 369, from 75 households. This is the first occasion we can see most of the Crompton Stansfield clan at home. In earlier censuses they may have been at one of their other residences. The most striking feature here is the mobility of their servants. Hardly any are locally born, often the case with domestic staff. Their origins vary from all parts of Yorkshire plus Berkshire, Gloucestershire, Kent and Scotland.
Forty years later, in 1901, the population was now down 310 and the number of households returns to 79. This suggests family size diminished over sixty years or, to be correct, household size decreased. Boarders and lodgers are a regular occurrence in early censuses. By now the number employed in the textile trade had fallen dramatically, perhaps the local mills had shut. Another example of mobility is the WEBBfamily. Head of house is John Webb, navvy, age 38, born Aston on Trent, Derbyshire. The other eight members of his family were born in Bedfordshire, Bristol, Northamptonshire, Staffordshire & Yorkshire! Two of the families mentioned in the early directories, Nunwick and Denby, are still in Esholt in 1901.
Another useful source for Esholt families is the School Logbook, 1891-1965, housed at Bradford Archives. School logbooks are an excellent tool for showing population trends, as the head teacher usually comments on new admissions and leavers. Bradford & Leeds libraries also hold copies of Kelly's Directory for certain years in the twentieth century. By this time it had become more common to list the, dare I say, ordinary householders.
The railway arrived in 1876 but the station had a relatively short life closing in the 1940s. The sale of the estate in the early part of the twentieth century would have reduced employment and tenanted homes. Gradually the village became what we see today, a quiet backwater.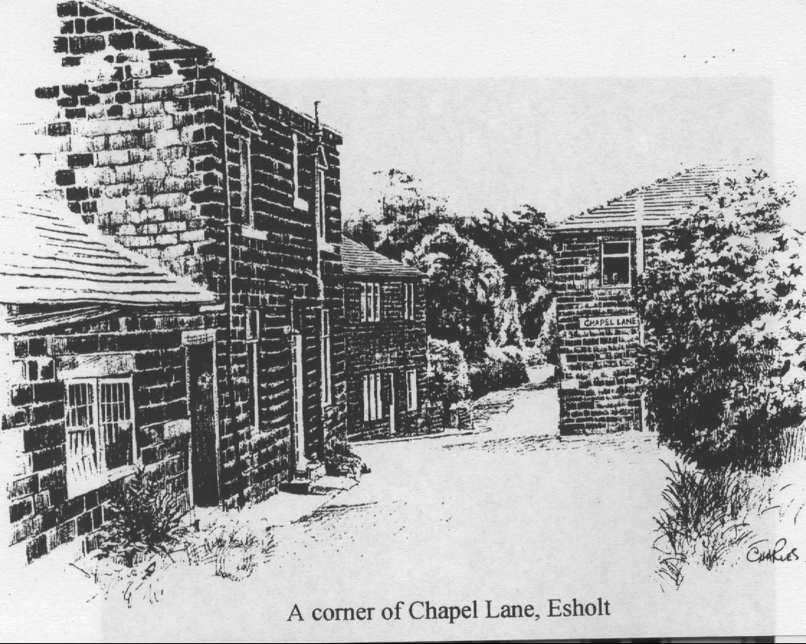 Drawing by Charles, from Yorkshire Life.
English is a simple, yet hard language. It consists entirely of foreign words pronounced wrongly. Kurt Tucholsky (1890 – 1935)
WHAT IS A CHRONOLOGY?
by Hazel Hill (née Green)
It is a way to show events, in order of time, – something which is particularly useful in family history, where one collects numerous snippets of information from various sources. It enables one to build up a picture of a person's life by arranging the information in date order.
I enclose an abridged version of my 2xgreat-grandfather, Isaac DENBY, as an example. Information has been gleaned from Parish Registers, the IGI, Burial Registers, Poll Books, marriage and death certificates, Kelly's Directory, P.O. Directory, memorial inscriptions and a legal indenture and mortgage document. It is useful also to include information about close relatives in this chronology, to show events that would have affected him e.g. death of wife and son.
Start, at first, with a time chart, with columns for date, source and narrative. Later on this can be fleshed out into a more detailed biography if desired.
On studying my chronology, I realised that Isaac had spent over 40 years at Woodhouse, presumably as a tenant farmer. That would mean that he had probably had two 21 year tenancies (that was the normal length, I believe). At the end of his second term, he had to move away across the fields. It seems likely that his son, John, then took on the tenancy of Woodhouse and, in addition, the tenancy of Upper Woodhouse, as the acreage has increased from 41 to 100 acres.
Poll Books are an interesting source. To find that there were only 23 voters in Ilkley and Otley was a surprise. Voters had to have land of over 40 acres, or an income of £50, to be eligible to vote. The way a person voted is also recorded. No secret ballot in those days!
The time sequence enabled me to realise that, within a year of Isaac's son, John, dying, when Isaac was himself 86 years old, he decided to pass on the ownership of Birks Farm to his daughter, Mary. It was not possible, in 1866, to leave property to a woman. It had to go to her husband. Therefore, according to the Indenture, the farm passed to Wilson WHITAKER, "in affection and consideration of ten shillings".
I now feel I know a lot about Isaac's life, from his humble beginnings, as a son of a labourer and hand-loom weaver, to becoming a tenant farmer and, later in life, to being able to buy Birks Farm on a mortgage. He suffered the death of his first wife after only three years, but remarried five years later and had two children, John and Mary. His daughter, Mary, produced thirteen children. All except one survived. None of those children married and had descendants.
All in all, I think Isaac had a long and satisfying life.
ISAAC DENBY – CHRONOLOGY
Isaac Denbys. James Denby/Alice b. 23 Dec 1779, Middleton, Ilkley
Denby m. Sarah Hudson 29 Oct 1804, Ilkley
Sarah, wife of Isaac Denby, farmer, Woodhouse, died 24 July, buried 26 July, Ilkley
Isaac Denby, Farmer & Widower & Mary Davy, parish of Otley,
widow, (married) by licence, 4 April 1812
John Denby s. Isaac Denby & Mary Curtis/Davy bap. 25 Feb 1816,
Ilkley
Mary Denby d. Isaac Denby/Mary bap. 28 Dec 1828, Ilkley
1841 Isaac Denby, voter Woodhouse, voted for Milton, Morp
Kezia d. Mary Denby (unmarried) Woodhouse, Ilkley b. 17 Dec 1844, registered Otley
1841-46 Isaac Denby buys Birks Farm, Glusburn – on lease, release
mortgage
Wilson Whitaker(30 yrs) m. Mary Denby (18 yrs) both of Woodhouse, at the Wesleyan Church, Otley, 9 Feb 1847
1851 Wilson Whitaker & Mary Denby now living at Birks Farm, Glusburn, with 2 children, William (3yrs) & Elizabeth (1 month)
1851 Isaac Denby (landed proprietor) and wife Mary living at Small Banks, Addingham (note – only half a mile from Woodhouse), Kezia Denby (granddaughter) (5 yrs) with them.
1851 John Denby (Isaac's son), wife Sarah & 4 children at
Woodhouse. Farmer 100 acres
1858 Mary, wife of Isaac Denby, died Small Banks, Addingham,
7 May. "dropsy 5 months"
1858 Mary, wife of Isaac Denby, buried Ilkley, 15 May . No. 138
1859 John Denby (Isaac's son), voter Upper Woodhouse, voted R,C,
not for W
1861 John Denby, farmer Woodhouse.
1866 MI John Denby, *Isaac's son) died (Jan), Woodhouse, aged 52 yrs
1866 Isaac Denby now living at Birks farm, Glusburn, with his
daughter Mary & husband Wilson Whitaker and family, passes
ownership of Birks Farm to Wilson Whitaker "in consideration and affection" (note- women could not own property, so in order to pass it on to his daughter, he had to pass it on to his son-in-law).
Isaac Denby died, "old age as certified", aged 92. 9 Mar 1872 at Birks House, Glusburn
1872 BR Isaac Denby, farmer, Ilkley. No. 512
BOLTON ABBEY PARISH REGISTERS.
by Tony Petyt
Over the last century the parish register section of the Yorkshire Archaeological Society has done sterling workin publishing almost two hundred volumes of parish registers. Amongst them are registers from the Wharfedale area, such as those for Addingham, Gargrave, Otley, Ilkley and Linton–in-Craven. It is possible occasionally to find copies of these registers in second-hand bookshops and now many of them are available on fiche. The registers which are most difficult to find are those that had been privately published at the end of the 19thcentury and, unfortunately for researchers, in the Wharfedale area these included such places as Bolton Abbey, Skipton, Burnsall, Rylstone and Fewston. My own interests centred mainly on the Bolton Abbey area and, when using this register in libraries, I used to look at the very short list of 24 subscribers in the back of the book and despaired of ever owning my own copy. In 1998 after retiring from work I decided to republish the register. Whether this was an act of folly only time will tell. My new edition of 300 copies is a facsimile of the original 1895 edition.
The 1895 edition was published by the Rector of Bolton Abbey, the Rev. A.P.Howes, who had spent several years transcribing the original registers. He correctly guessed that the registers were of interest to genealogists and to his parishioners and, over a period of years, he printed extracts in the parish magazine. Some time in 1894 he decided that it was time to go into print and in the October number of the magazine he inserted the following announcement:
The Parish Registers – I have before intimated in the Magazine that it was my intention to publish a printed volume of the Registers of this Parish. The work of copying the Registers from 1689 to 1812 is now accomplished, and a portion is already in the printer's hands. The copy covers 420 pages of foolscap paper, and when printed will form a volume of about 300 pages, including preface and indices. The cost of issuing 50 volumes, to which the edition will be limited, will be about £39. To meet the expenditure, the subscription price before publication will be one guinea; after publication, 25s. This price may seem excessive, but it must be noticed that the usual publishing price of printed volumes of registers has to be followed, and as it is desirable for many reasons to limit the number to be offered for sale the price is fixed in proportion to the cost of publishing a limited number. I daresay that in consequence of this price few, if any, parishioners will care to possess a volume; but in case any have a desire to subscribe, the order had better be given in to me at once, as I have already received the names of 20 subscribers. The subscription is to be paid on delivery of the volume when published. An order form, with printed particulars concerning the forthcoming publication, can be obtained either by application to Frank Whitaker, at the Post Office, or to me.
The Register, printed at the Craven Herald Office, High Street, Skipton, was duly published in 1895 and a perusal of the subscription list will reveal that not one of the subscribers had a Bolton Abbey address. It is hardly surprising that it did not find a market amongst the general public because the pre-publication price of 21 shillings is equivalent today to £60. In real terms my new edition costs only about a quarter of the price of the first edition.
The Rev. Howe transcribed all the registers that were available to himbut it has been known for some time that there are Bishops Transcripts which cover some of the years between 1634 and 1688. These entries were transcribed by Professor T.W.Edmondson in the 1940s and deposited at the Yorkshire Archaeological Society. The Wharfedale Family History Group published these entries in 1997. However recent research by Angela Petyt has revealed the existence of more Bishops Transcripts for Bolton Abbey. These include 14 entries for the year 1692 which are missing from the printed register and many entries for the years 1632,1633, 1635, 1637, 1662 and 1663. These entries will be included in a new edition of Bolton Abbey Parish Registers 'Some Earlier Years Prior to 1689' to be published by the Wharfedale F.H.G. The Wharfedale F.H.G. has also published 'Bolton Abbey Parish Registers 1813-1837'.
Finally a word about the two scholarly quotationsused by the Rev. Howes in his edition. On the title page he uses a quotation which has always fascinated me and it is only recently that I have learned its derivation. 'Gainst the Tooth of Time and the Razure of Oblivion' is taken from Shakespeare's 'Measure for Measure' Act 5 Scene 1. The derivation of the Latin poem on the verso of the title page eludes me completely; perhaps one of my readers can enlighten me.
THE WEDDING PHOTOGRAPH
by Mary E. Marrs (née Holden)
The above picture came into my possession in early February 2002. I did not know of its existence previously but, none the less, was very pleased to add it to my family tree collection. My sister, who had sent the photo, was certain it was of Scottish relations but I did not feel that she was correct in this theory.
In February we had a visit from Helen and Matthew Mason of Appletreewick, both of whom showed great interest in the photo and they promised to show it to friends in Wharfedale, if I sent them a copy. They were sure someone would know the people in the picture. It was not long before a letter arrived, giving more details than I could ever have hoped for, given the age of the photograph.
The building is Prospect House, at the top of the hill in Appletreewick, opposite the church. It was, at one time, a tea room and also has been a boarding house. Both WEATHERHEADs and WELLOCKs are believed to have lived at the House.
The people in the photo were: the bridegroom, a HINCHCLIFFE, likely Herbert Chadwick Hinchcliffe, who died in 1926 and is buried at Burnsall. The bride is Emma WELLOCK, the bridesmaid seated on the right is also a Wellock, married to John REYNOLDSONof Howarth Farm. The bride and groom went to live in Cornwall and had children. Sadly, the son died at Falmouth at only 7 years of age. He is also buried at Burnsall.
Emma Hinchcliffe came back to live in the area and eventually married Harry SEDGWICK. This explains why my Dad would have kept the photo, as his mother was a Sedgwick. Certainly he would have known Harry Sedgwick and he was related to him.
Back to the picture …the gentleman in the bowler hat is the bride's father, a Wellock, and the other gentlemen in top hats are thought to be businessmen from Keighley.
This wedding must have taken place during or before 1914 and yet there were several people able to identify most of the wedding party. I was so pleased to receive the information and I am sending it to the Newsletter with the hope that descendants of the wedding party still in the area will enjoy seeing the photograph.
Mary Marrs
__________________________________________________
A person may be indebted for a nose or an eye, for a graceful carriage or a voluble discourse, to a great-aunt or uncle, whose existence he has scarcely heard of. William Hazlitt, 1778 -1830
__________________________________________________
MULTIPLE BAPTISMS
by Brian Clayton
Discovering multiple baptisms is not too rare. However, whilst browsing through the first baptismal Register of Yeadon St. John's.I discovered more than the usual multiple baptisms. Often they prove to be a bonus for family historians.
Before the opening of this new Church in 1846, those of the Anglican faith, residing at Yeadon, came within the Parish of Guiseley. The first baptism entry at the "New" Church of St. John's, Yeadon, was July 21st 1844, when the Rev. W. METCALFE, baptised Robert, son of Thomas and Hannah PROCTORof Yeadon, Labourer.
The Rev. W. Metcalfe was very active in reviving enthusiasm amongst his flock. During the next few years there are many multiple baptisms in his register. I noted:
15 Sep 1844, Jonathan and Ann HARRISON, three children baptised; 13 Oct 1844, William and Nanny WILKINSON, two children; Nov 28 1844, William and Hannah FARRER, two children; 15 Dec 1844, John and Rachel HIRD, two children; 29 Dec 1844, John and Jane WINTERBURN, two children; 9 Feb 1845, John and Hannah FIELDHOUSE, three children (including twins); March 2 1845, Benjamin and Sarah WATERWORTH, three children; Joseph and Ann DENNISON, three children. Also in 1845, James and Martha SMITH, two children; William and Elizabeth GRAY, two children; George and Sarah WATERWORTH, two children; 8 June 1845David and Mary LONG, three children; George and Sarah WATERWORTH, two children; 12 Oct 1845, Abraham and Hannah COULTAS, two children; 2 Aug 1846, William and Sarah AYRTON, three children; 31 Dec 1847, Thomas and Martha FISON, two children; 30 April 1848Jonathan and Sarah JOWETT, two children
The Rev. W. Metcalfe possibly achieved his greatest success on Aug 19 1848. On this day he baptised 39 children, many of them multiple family baptisms. These include:
Jonathan and Elizabeth JOWETT, 2 children; Sarah Ann b. 1847, Margaret b. 1848
John and Ann BROOK, 4 children: Mary Ann b. 1840, Thomas 1842, David 1833, Joseph 1837
Samuel and Ann CHILD, three children: Esther, Benjamin and James. (No dates recorded)
Esaiah or Hezekiah[sic] KAY, 4 children: Sarah, Thomas, Benjamin b. 1835, Wilkinson b. 1841
Samuel and Mary LONG, one child: John Whittam LONG b. 1845
John and Martha LONG,5 children: Sarah b. 1839, Delia 1841, Hannah 1843, Samuel Kellett LONG 1845, George Henderson LONG 1847
John and Sarah THOMPSONof Nether Yeadon, 3 children: Mary Ann 1841, Reuben 1843, John 1846
William & Hannah RHODES, 4 children: Hannah 1843, Rebecca 1843 (twins?), Abraham 1845, Emma 1847
Edward and Grace WATERWORTH, 3 children: Christiana 1839, Phebe 1845, Francis (son) 1847
In the following years other multiple baptisms can be found.
SUDDEN DEATH OF AN ECCENTRIC CHARACTER.
On Friday last, (13th August 1880) Mrs Elizabeth YEADON, age 47, more familiarly known as "Jet Gill", died suddenly at Mr James TAYLOR's, grocer, High Street. The deceased, for many years, had earned a livelihood by washing and cleaning at different houses in the town, and on the day in question was cleaning at Taylor's. About four o'clock in the afternoon she complained of feeling poorly. Mrs Taylor advised her to sit down and she would make some hot tea and brandy: but the poor woman rapidly grew worse, and expired before anything could be got ready, and before medical aid could be procured. No inquest was held. She was interred at Yeadon cemetery on Sunday last. The deceased lived alone, and was somewhat eccentric and miserly in her habits. In the house where she lived, upwards of £16 in copper was found, concealed in different parts of the place, carefully wrapped in bits of paper, varying in sums from 6d to 1s, besides other money in silver, evidently the wages she had received from various persons she had worked for. Some years ago she had accumulated a similar sum and in a similar series of coins: but friends persuaded her to invest in the Yeadon Penny Savings Bank: and we believe that Mr PICKARD, late assistant overseer, undertook the onerous duties of counting up the money and seeing it properly invested. The late Mr Philemon SLATER and his brother Alfred, who were directors at the time, assisted Mr Pickard in the task.
To me this little story just gives a snapshot of life in the 1800s. Incidentally, I found the MI for Jet GILLin the WFHG book of Yeadon cemetery.
Mr James Taylor was my g-g-grandfather, a Grocer and Contractor, of High Street, Yeadon. His own untimely death was reported in the same column just 3 months later. His wife Martha retired from the grocers and went with the family to live at Westfield House, in what is now the RAFA club. I never did find out what the 'great trouble' was that befell my great grandfather, although I think his business may have been destroyed by fire. However, as soon as I can, I will be back at the British Library to try and find out more. A great day out, and no charge!
Carol LEARMOUTH
__________________________________________________
From Memories of Upper Wharfedale, by Thomas Hebden Metcalfe. 48pp, illus.£3.75 [WFHG]
John Robinson from Buckden, myself & three others recobbled Grassington square in 1943. We were on our hands and knees from February to August and each received a pewter pint mug with our name inscribed on it for our effort, from Grassington Chamber of Trade. I also helped develop the old people's homes at Aynham Close.
John Robinson and myself were assisting a diesel driven road roller to get up Park Rash Hill in the late 1960s. It started to spin, or at least its wheels did. We were both behind it with chocks, but with it being so steep, it came backwards over them, ran back down the hill, switched through the wall, did a somersault and ended up in the beck below, with its engine still running and its wheels spinning on the beck bottom. When it somersaulted, it knocked the driver's cab clean off. Fortunately, the driver jumped clear just as it turned, the dummy wheel or front wheel missing his head by about a foot, as he fell flat on his back, when he jumped clear. It was a very frightening experience for us all.
__________________________________________________
MY INCONSIDERATE ANCESTOR
by David Foster
My interest in family history began late last year (2001), when my father gave me a few family certificates of Birth, Marriage and Death. Although I was born in Bradford, as was my father, Edward FOSTERand his forebears, my mother, Mary YEADON, was born in Batley. Both her parents, Joseph AllenYeadon and Elsie EmmaFARRAR, were also born and married in Batley. Elsie Emma's family origins were in Batley and the surrounding areas but I recollect being told, many years ago, that Grandad Yeadon's family hailed from Yeadon, near Guiseley – a fact which stuck in my mind.
After following the Foster family back to my great-great-grandfather, Alfred Foster, I decided to turn to the maternal side of the family. The marriage certificate of Joseph Allen Yeadon and Elsie Emma Farrar revealed that they were married on the 25th December 1916, that Joseph was age 23 at the time of his marriage and his father's name was Christopher. With this information I was able to search the GRO index and request a copy birth certificate of Joseph Allen by telephone from the GRO at Southport. (It was some time later that I discovered that copy certificates can be obtained from local register offices at less cost.
I learned that Joseph was born on 17th Nov 1893 and his mother was Mary(née HAIGH). I then visited my local LDS family history centre in Sheffield and used the 1881 census index on computer for the first time. From this I found only two Christopher YEADONs; one a farmer in Carlisle and the other living in Yeadon:
Name Marr Age Sex Birthplace
Christopher YEADON M 29 M Yeadon
Mary J. YEADON M 30 F Yeadon
John W. YEADON 8 M Yeadon
Martha H. YEADON 6 F Yeadon
I was somewhat puzzled by Mary's second initial, J., but as the other facts fitted, and in the absence of another likely Christopher, I decided to research this family further. However, as the 1901 census was expected to come on line shortly and it should be easy to locate Joseph Allen YEADON (then aged 8), I decided to pursue other parts of my family for the time being. After waiting for the 1901 census for many weeks, together with several million other people, I visited Batley library in an unsuccessful search of the census on microfiche.
Over the years I had been told by various relations that Grandma Yeadon was a saint because she had both her mother and mother-in-law living with them in their latter years. I have a faint recollection of one or both of them.
Among the certificates passed to me was the death certificate of great-grandmother Farrar (Elsie Emma's mother), which showed that she died in 1950 at the age of 85. As I was six at the time, I obviously could remember her – but could I remember great-grandmother Yeadon? I was unable to ask my mother, as she died in 1994. My father thought that great-grandma Yeadon was not around when my parents married in Oct 1942, as they lived with her parents for a short time after their marriage and there would not have been enough room in the house for both my mother's grandmothers as well. My Aunt, on the other hand, thought that both old ladies were present at my christening in Feb 1944.
I began to trawl back through the GRO index, from 1950, to establish the time and age of great-grandma Yeadon's death, as I suspected that her age did not fit in with that of Mary J. in the 1881 census. When my allocated time at the FH centre had run out, I had got back as far as 1945.
Shortly after this visit in April 2002, my father died suddenly, at the age of 81. Whilst sorting out his effects, we found my mother's diary for the year 1944. This recorded my birth in January, the visit of my parents to Buckingham Palace in March, when my father received his Distinguished Flying Medal from King George VI and, on May 13th, an entry "Dad visited Grandma's grave". Guessing that this was the anniversary of her death and that my father was correct in his belief that she was not around at the time of my parents' marriage in October 1942, I searched and found her death in the June quarter of 1942, at the age of 85. Mary J. YEADON, according to the 1881 census, would have been 91 in 1942. I therefore had a discrepancy of 6 years.
I began to wonder if Christopher had married two different Marys. The marrying of successive spouses with the same Christian name may not be common today but, in the 19th century, when remarriage following the early death of a spouse was probably more common than it is today – as I was to discover later, when researching Christopher's father, Joseph, who not only married two ladies with the same Christian names but also the same surnames prior to marrying Joseph.
I then did what I should have done much earlier and worked back from Joseph Allen's birth in 1893, looking for his parents' marriage. Lo and behold, there it was in the March quarter of 1892: Christopher YEADON to Mary HAIGH. Christopher, a widower, age 40, was living in Yeadon at the time of this, his second, marriage. The marriage took place at Batley, where Mary Haigh, age 35, spinster, was also living. I now knew that Mary was unmarried in 1881 and found her in the census, living with her widowed father, Allen Haigh, whose occupation was given as newsagent. This was also my father's occupation for many years.
So, by marrying two Marys, my inconsiderate ancestor led me along a lengthy false trail, due in part also to my inexperience.
David Foster
RESEARCHING IN CRACOE, HETTON & RYLSTONE
by Stanley Merridew
It appears that little has been written about this trio of villages until the recent exposure given to & by the Rylstone Women's Institute. I am sure many people have turned to a map to find this village of recent notoriety. But the three townships comprising the parish of Rylstone, i.e. Rylstone, Cracoe and Hetton, have played a part in history.
Rylstonewas the former home of the NORTON family, who took part in the Pilgrimage of Grace&The Rising in the Northduring the sixteenth century. Both were objections to changes in the relationship between church & state. The outcome of their involvement was the loss of their estates to the CLIFFORD family. Wordsworth's poem, "The White Doe", catalogues the family's downfall.
The church at Rylstone was originally a chapelry of Burnsall parish, becoming a parish in its own right in 1876. Fortunately they maintained their own registers. The original registers are held at Northallerton Record Office, but a printed registerfor the early period to 1812 is available in Ilkley and Leeds libraries and also at the Yorkshire Archaeological Society. Bishops Transcriptsfor 1636 to 1835 are kept at the Borthwick Institute in York and the later section 1856 to 1876 are at Leeds archives. We have indexed the censusyears 1851, 1871 & 1891 and these show the relevant piece and folio numbers to aid the researcher in viewing the films. Other secondary source material is the memorial inscriptions we have transcribed plus the IGI(1559 to 1835). The two national marriage indexes, Boyd's & Pallot both include Rylstone: Boyd's 1560-1812, Pallot 1797-1812.
At Northallerton you can also view Burnsall parish churchwarden accounts1704-1947 and some overseer's documentsfrom 1724 to the nineteenth century. Some of this material will relate to the three townships. As with all parishes with chapelries it is imperative to look at the registers for the mother church as well as the chapelry to ensure no entries are missed. The record office also has some records of Burnsall Grammar Schoolbut I am not aware of any school records for Cracoe, Hetton or Rylstone. The only nonconformist building still in existence is the Methodist Church at Hetton whose records I have been unable to trace but they maybe included with the Skipton Circuit records at Northallerton.
TheYorkshire Poll Bookshave been published for 1741 and 1807. These are arranged by township and will generally show voter's name, place of residence and often occupation. If their qualification is through freehold land in the township with residency elsewhere, this is also shown and is a useful key to finding other records. For example in the 1807 Poll Book – Wm WADE, salesman, living in Manchester, freehold in Rylstone. The 1741 version for Yorkshire does not include occupations but by 1807 they do appear and include a linen draper living in Hetton, Robert BRADLEYand a calico manufacturer in Rylstone, William WESTERN. Bear in mind Poll Books will only show those who voted from amongst a small percentage of the population who were entitled to vote.
Another source, but encompassing a wider span of the populace, is the Muster Rolls. These were taken whenever there was a threat of war and particularly invasion. The 1803 Craven Muster Roll was brought about due to the Napoleonic Wars taking place at the time. The record included all men aged between seventeen and fifty five arranged in four classes:-
Class 1 Unmarried men under thirty with no child under ten years of age.
Class 2 Unmarried men between thirty and forty nine with no child under ten years of age.
Class 3 Married men between seventeen and twenty nine with not more than two children under ten years of age.
Class 4 Others not included in above classes.
It is arranged by township and also includes occupation. With this classification it gives a good guide to age and narrows down date ranges making it worth checking before searching through parish records. However class four after first glance is all embracing and does always seem to have the longest list. In Cracoe by this date there was some industry as we have a cotton master, Benjamin SHIRES and several cotton spinners. Skipton Library has a copy of the muster roll.
Quarter Sessions, perhaps by the nature of their volume, are frequently missed by family historians. They do include a wide variety of material not all relating to the criminal classes! For example from 1729 Alehouse Licenceshad become renewable annually at the Quarter Sessions. So if you have an ancestor involved with alehouses you may find a mention. For our local area, Alehouse Licences have been transcribed and published to make our searches a lot easier. From these we know licences were granted in each of the townships for the years 1771, 1773, 1778, 1781. They also show the name of the person giving a surety – a monetary bond taken away if the licensee breaks licensing laws etc.
In all the sources PROCTOR appears to be the most common surname, followed by SUMMERSKILL& WADDILOVE. All of these names continue in the area through the nineteenth century census returns showing a very long term connection.
Tithe mapsare also a useful pre-census tool and usually show land owners. Rylstone parish tithe map for 1838 is held at Northallerton Record office.
TRIALS OF A FAMILY HISTORIAN
From Peterhead to Peterborough, Pendle to Penzance,
My merry band of ancestors has led me quite a dance.
There's no one rich and famous, no, not even well-to-do,
Though a second cousin twice removed once played in goal for Crewe.
My bride of just three minutes I left standing in the church,
As I nipped into the graveyard for a spot of quick research.
Eventually I found an uncle 60 years deceased,
It was far more satisfying thena silly wedding feats.
But now my thirty year obsession is lying in the bin,
Last Tuesday week I heard the news that made me chuck it in,
For my darling mother who is not long upon this earth,
Casually informed me they's adopted me at birth.
Thanks to Gerald Lawson Author unknown
_____________________________________________________
THE LAMENT OF THE MAN ON THE LAND (in Australia)
[The enclosed item (author unknown) from the newsletter of Denilquin FHG in Australia (to whom many thanks), stuck a chird. I think we in Britain can sympathise with the sentiments expressed.]
It all started back in 66, when they changed from pounds to dollars.
Me bl..dy overdraft doubled.
Then they brought in kilograms instead of pounds.
Now I find I'm only producing half of what I used to.
Then they changed rain to millimetres and we haven't had an inch of rain since.
They bring in Celsius and it never gets over 40 degrees.
No wonder me bl..dy wheat won't grow.
The they change acres to hectares and I end up with half of the bl..dy area I had before.
By this time I'd had it and decided to sell out.
I just get the place in Agent's hands and they change miles to kilometres.
Now I'm too far out of town for anyone to buy the bl..dy place.