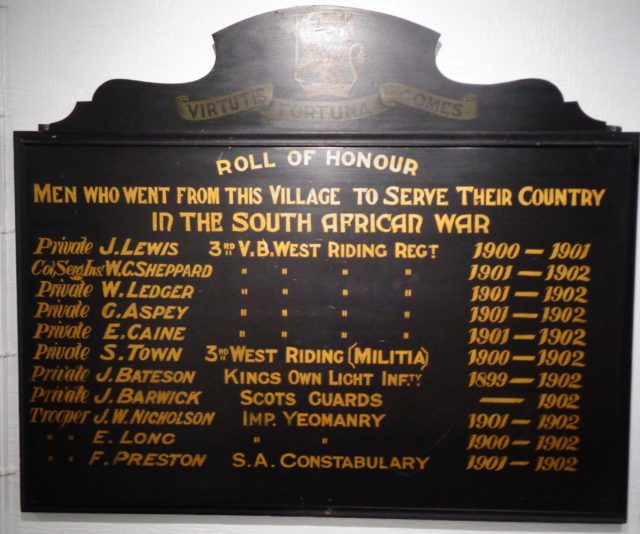 The following Officers, NCOs and Men mobilized with the West Riding Ammunition Column RFA (T) on August 4th 1914 or re-joined and served with the unit (Names in bold killed in action or died of wounds)
Capt F.A. Arnold Foster
Lt R.T. Benn
Lt F.W. White
BQMS Caine E.
BSM Wall J.
Sgt Cotton A.E.
Cpl Boden B.A.
Cpl Casson G.
Cpl Sowrey J.
Bdr Barr C.
Bdr Denton C.
Bdr Metcalfe W.
Bdr Midgeley H.
Bdr Roberts E.
Bdr Stott C.
Bdr Terry F.
Gunner Anderson R.
Gunner Atkinson T.
Gunner Bilton W.
Gunner Brayshaw A.
Gunner Crowe H.
Gunner Ferguson A.
Gunner Gilks G.
Gunner Hargreaves F.
Gunner Hargreaves J.
Gunner Harrison H.H.
Gunner Hodgson J.
Gunner Hodgkinson W.
Gunner Holmes F.
Gunner Jobling D.
Gunner Kirkbright F.
Gunner Ledger J.
Gunner Ledger W.
Gunner Patrick G.
Gunner Pearson J.
Gunner Procter J.W.
Gunner Shackleton E.
Gunner Smith C.
Gunner Smithson T.
Gunner Straddling J.
Gunner Tate W.L.
Gunner Thompson H.
Gunner Umpleby R.
Gunner Vine S.
Driver Barrett F.
Driver Bradley B.
Driver Bradley H.
Driver Carter A.E.
Driver Clayton H.
Driver Driver A.
Driver Foster H.
Driver Fox P.
Driver Freeman J.
Driver Freeman T.B.
Driver Gaulter
Driver Gilder H.
Driver Harrison T.
Driver Hudson H.
Driver Kelly J.
Driver Kelly R.
Driver Knowles J.
Driver Lawson N.
Driver Mann H.
Driver Midgley P.
Driver Newbould B.
Driver Newstead A.
Driver Norman W.
Driver Paget H.
Driver Parkinson R.
Driver Pickles F.
Driver Raistrick H.
Driver Rayner J.
Driver Roe J.
Driver Shaw C.
Driver Shackleton J.
Driver Shackleton W.H.
Driver Shuttleworth A.
Driver Sibison H.
Driver Smith W.
Driver Stapleton H.
Driver Stead A.
Driver Stevenson S.
Driver Sunderland C.
Driver Taylor H.
Driver Teal, B.
Driver Teal R.C
Driver Todd A.
Driver Vine A.
Driver Whitaker B.
Driver Whitaker F.
Driver Wilkinson P.
Wheeler Barker A.
Trumpeter Brown C.
Trumpeter Marriott N.
Roll of Honour
Men who went from this village to serve their country in the South African War
Private Lewis J.
Col Sgt Inst Sheppard W.C.
Private Ledger W.
Private Aspey G.
Private Caine E.
Private Town S.
Private Bateson J.
Private Barwick J.
Trooper Nicholson J.W.
Trooper Long E.
Trooper Preston F.