By Julia Wood
Tosside or Tosset, as it was also known as, was a tiny hamlet on the banks of Tosside Beck which ran in the valley bottom half a mile down the hill from where the centre of the village is now located. It comprised of a few houses, a shop and a blacksmith's and surrounding farms. It would be quite isolated being in the Pennines and away from major thoroughfares.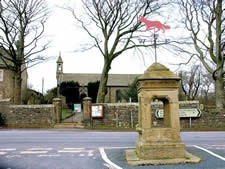 Over the years the village moved up to its present position around a water fountain which marks the new boundary between Yorkshire and Lancashire.
There is a pub called The Dog and Partridge and St Bartholomew's Church which has also been known as Houghton Chapel. Down the road to the west of the village was Mount Sion Independent Chapel which was also known as Sandy Syke Chapel. This is now closed.
The village is part of the parish of Gisburn.
Deposited Registers (Borthwick Institute of Historical Research at York University.)
Parish Registers
Baptisms: 1769-1917
Marriages: 1861-1987
Burials: 1769-1813
Bishop's Transcripts:
1749-1753*, 1774*, 1775*, 1776-1786, 1788-1815, 1817-1836
* With Gisburn
IGI Coverage: